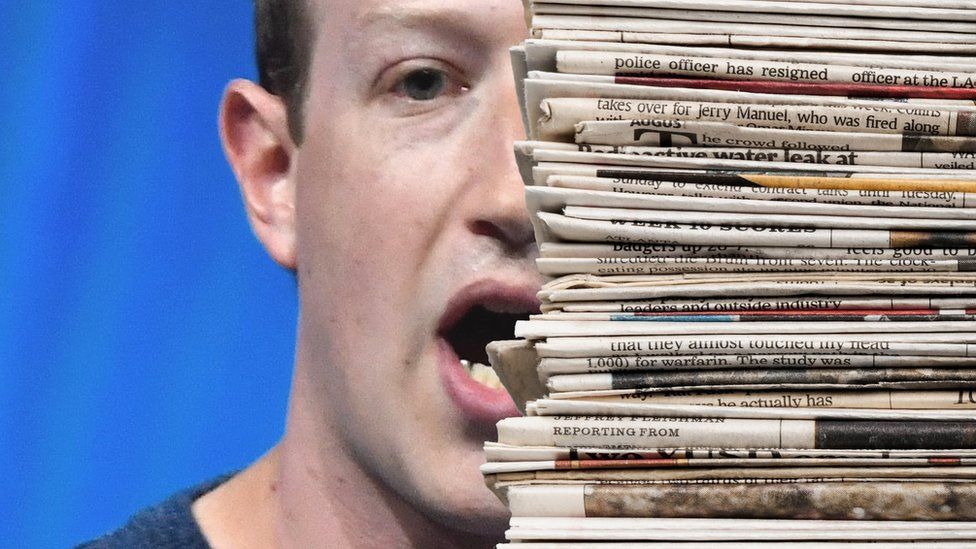 Facebook, often seen as one of the factors behind the decline of local newspapers, has unveiled a scheme to train reporters to work in local communities across the UK.
The social media giant is giving £4.5m ($5.7m) to local newspaper groups, which will hire around 80 people to spend two years training to be community reporters.
The scheme, to be administered by the National Council for the Training of Journalists, is designed, in Facebook's words, "to encourage more reporting from towns which have lost their local newspaper and beat reporters".
Now cynics might suggest that part of the reason those reporters have gone is that Facebook has run off with a large slice of the local advertising revenues, which used to support those jobs.
But at the press conference unveiling the scheme, executives from the Archant and Reach local news groups were determined to be positive.
Their new trainees would be embedded in local communities underserved at the moment - "getting right to the heart of those communities, building relationships, and covering those subjects which aren't necessarily part of the big news agenda, but reflect the everyday lives of people we want to reach".
That all sounds laudable but what happens to these community reporters at the end of the two-year training period when Facebook stops paying for them? If this kind of ultra-local reporting isn't commercially viable now, why will things have changed?
There was no real answer from the local newspaper executives, and when I asked them to quantify the damage done to their businesses by Facebook over recent years, I was told that the launch was all about an initiative that would be beneficial to both sides.
The newspapers do get some much-needed cash for training - though around half as much as is being spent per year on the BBC Local Democracy scheme which uses licence fee revenue to fund newspaper reporters covering local authorities.
But what is in it for Facebook?
"We want people to come together and connect through great content," says Nick Wrenn, the firm's head of news partnerships in Europe.
"We want communities to be informed and I don't think you can do that without strong local journalism."
News organisations may, however, be a bit wary when Facebook talks of mutually beneficial partnerships. For one thing, what it means by the "great content" which will bring people together - this keeps changing with every tweak of the algorithm that powers its News Feed.
A couple of years ago, many news organisations "pivoted" to video, convinced by Facebook that this was the route to huge audiences and revenues. Now many video journalists have been laid off after the crowds and the cash failed to materialise.
At the beginning of this year, the News Feed was revamped to favour posts and videos from your friends and family, rather than those from businesses and news organisations.
Facebook may aspire to boost the local content its users see, but right now regional newspaper groups don't appear to be benefitting.
Any journalist will welcome the recruitment of 80 new community reporters, but unless their stories reach plenty of Facebook users and advertisers, this initiative could prove to be another blind alley.