Xiaomi criticised for UK smartphone £1 flash sale
By Leo Kelion
Technology desk editor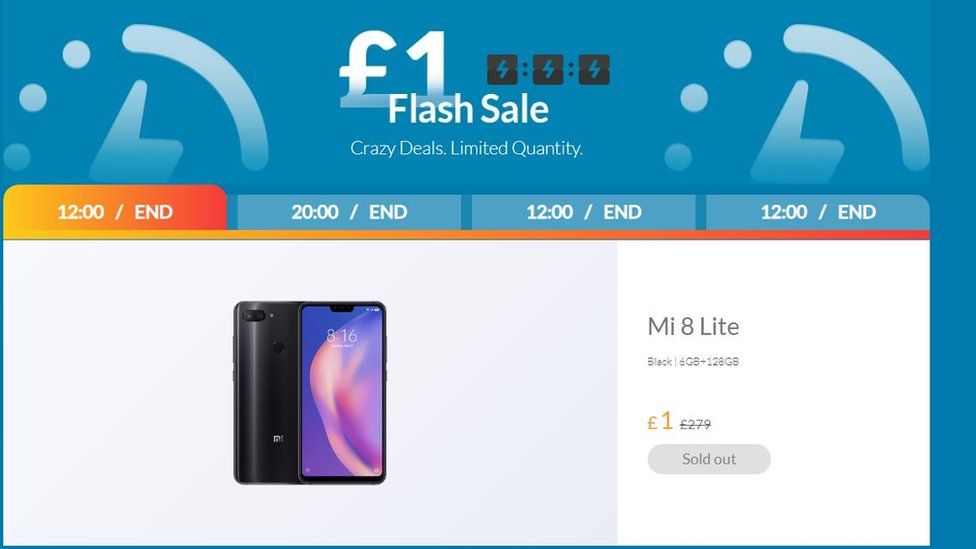 "Flash sales" publicising a Chinese smartphone company's UK launch have sparked a backlash on social media.
Xiaomi advertised two of its new handsets for £1 each last week as part of a "crazy deals" promotion.
But it has emerged that each flash sale involved only two or three phones and Xiaomi had set its website to say: "Sold out," as soon as the sale opened.
The UK's ads watchdog said it had received a complaint and was now deciding whether to investigate.
Xiaomi said it hoped customers would not be discouraged from taking part in future campaigns.
"We've held flash sales all over the world since our first one back in 2013 as a way to give a lucky few customers a chance to get their hands on our smartphones at incredibly low prices," said a spokeswoman.
"[This] was our first in the UK and attracted enormous levels of demand, far beyond what we were expecting.
"We're sorry so many Xiaomi fans missed out this time round but we hope they'll take part in future flash sales as and when we announce them."
It typically offers thousands of devices at a more realistic prices when doing so. But even when it held a similar €1 (88p) event in Spain last year, it provided 50 units.
By contrast, the first two UK flash sales involved only three phones apiece, while two follow-ups were limited to two units.
This fact was not mentioned on the main sales page. Instead, users had to click on a link to its terms and conditions, found at the foot of the site, and then scroll halfway through them.
Dozens of users complained on Xiaomi's Facebook page after failing to obtain a phone.
"For a company worth around $50bn launching in a brand new country and making a big deal about it they could have done 50 easily. They didn't. They'll lose potential customers over this," wrote Simon Hodge.
Another user, James Bowen, said: "What a joke, as soon as the timer hit zero, it was out of stock - just clickbait to get people to visit the website."
One user subsequently analysed the webpage's code and pointed out it had been set to say: "Sold out," as soon as the sale had opened - without even checking to see if the allocated stock had indeed been purchased.
However, Xiaomi denied accusations this indicated no phones had been sold at the promised price.
Instead, its UK sales manager Wilkin Lee said, a lottery had taken place made up of those who had pressed the button closest to the set time.
"Of the thousands who clicked 'buy' simultaneously, the tie-breaker is done by selecting the winners randomly," he tweeted.
But users have complained the terms and conditions made no mention of a lottery, stating only that the phones would be "given away on [a] first-come, first-serve basis".
A spokeswoman for Xiaomi has confirmed that this was the case but added that this "mistake" had been fixed the day before the first sale.
"If the ad didn't include significant conditions and the terms and conditions were changed part way through the promotion, then that could potentially be a problem," said a spokesman for the ASA.
One marketing expert said there were lessons to be learned.
"Viral campaigns exude novelty but there are growing concerns about whether a PR [public relations] stunt like this comes at the cost of consumer trust," said Dr Mariann Hardey, from Durham University.
"Xiaomi's promotion sought to create faith in what is a little-known brand.
"But it has put its reputation in a precarious position by pursuing a marketing campaign that is viral both in terms of spreading widely and having had a damaging effect."
Related Internet Links
The BBC is not responsible for the content of external sites.