Paypal stops handling payments for Tommy Robinson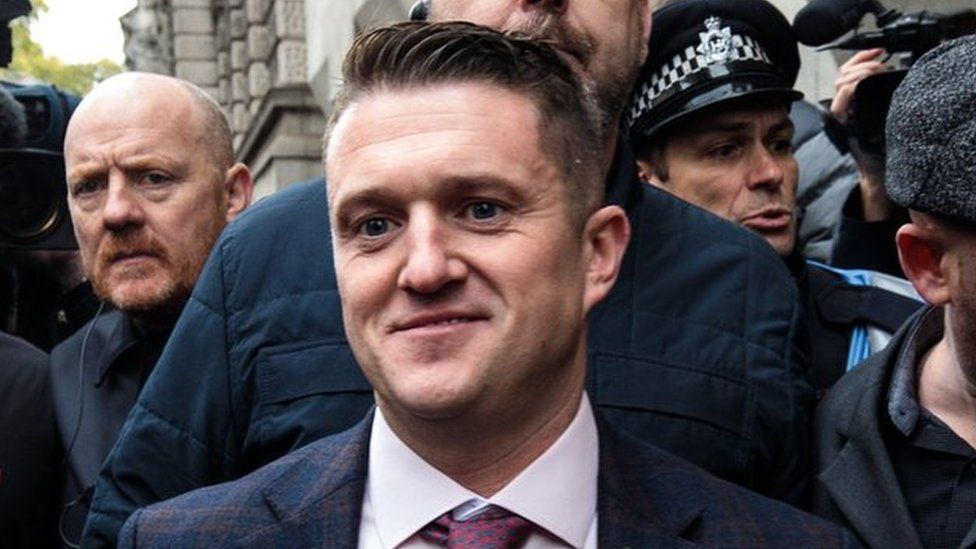 Paypal has told former English Defence League leader Tommy Robinson it will no longer process payments on his behalf.
Mr Robinson said the online payments system told him he did not fit within its user guidelines and would never be able to use the platform again.
He said he had been using the platform to collect donations to fight his legal battles and branded the ban "fascism".
Online petitions calling on finance firms to sever links with him have gained thousands of signatures.
In a statement, Paypal said it could not comment on individual customers but added that it regularly reviewed accounts to ensure their use aligned with its acceptable use policy.
Accounts that broke its policies would be closed, it said.
Paypal added: "We do not take decisions like these lightly, and we work hard to be rigorous and fair-minded when reviewing PayPal accounts.
"Striking the necessary balance between upholding free expression and open dialogue and protecting principles of tolerance, diversity and respect for all people is a challenge that many companies are grappling with today."
But Mr Robinson, whose real name is Stephen Yaxley-Lennon, said: "They just don't like my opinion and want to silence me.
"The government and establishment can see I have public support, they can see I have the ability to fight back."
He said Paypal had also frozen "a lot" of money that was in the account for 180 days.
In September, Paypal stopped processing payments for conspiracy theory site Infowars for promoting "hate and intolerance".
In May, Mr Robinson, 35, was jailed for contempt of court. The 13-month sentence sparked a series of #freetommy protests and a conviction which was later quashed after procedural concerns.
The case has now been referred to the attorney general.