YouTube U-turn over Red Dead Redemption 2 suffragette clips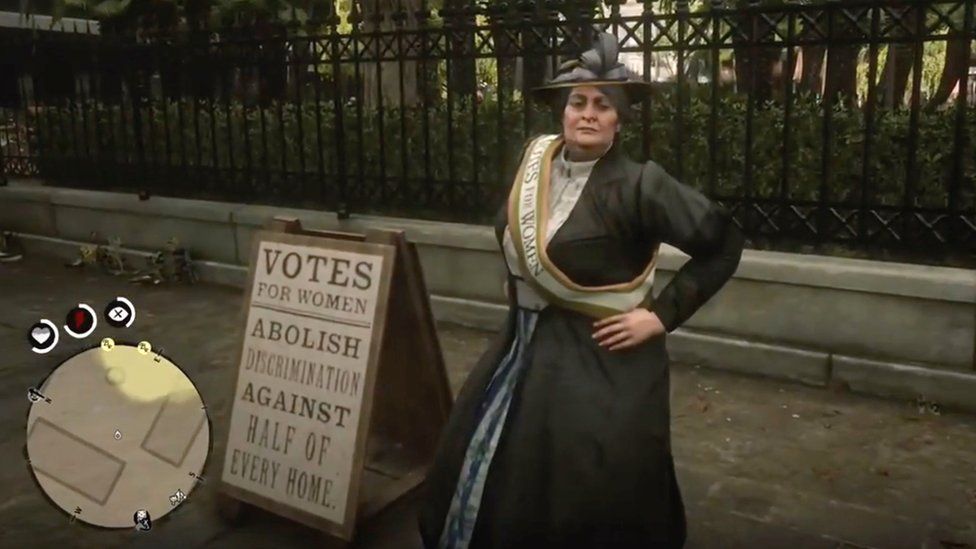 YouTube has restored several videos showing a women's rights campaigner being killed in a variety of ways in the video game Red Dead Redemption 2.
The platform had deleted the recordings on Wednesday and in one case had banned the clip creator involved.
The action had represented its first such response to depictions of graphic violence within a mainstream game.
But it now says that it made a "mistake" and has restricted the clips so they cannot be seen by under-18s.
The U-turn occurred after a backlash on social media.
This included the vlogger PewDiePie retweeting a complaint by one of the video creators, who had accused YouTube of unfair treatment.
Another popular vlogger, Keem, had also drawn attention to the affair claiming it was "going to create GamerGate 2.0".
Ryan Wyatt, YouTube's head of gaming, eventually responded - blaming the deletions on a misinterpretation of YouTube's community guidelines.
"The reviewer will be educated on this outcome and on how to avoid repeating this mistake," he tweeted..
However, the BBC understands the original decision had involved several members of YouTube's staff and that the original ruling was overturned once the business's wider gaming team took charge.
"YouTube's community guidelines prohibit among other things, gratuitous violence, nudity, dangerous and illegal activities, and hate speech," a spokeswoman said.
"Creative formats such as video games can be challenging to assess but when content crosses the line and is flagged to our attention, we take action as necessary."
The Western-themed Red Dead Redemption 2 is set at the end of the 19th Century, about two decades before women were given the vote in all US states.
Within the game the player meets several suffragettes.
In one case it is possible to assault and kill one of the campaigners.
Several YouTube creators took advantage of this to post recordings of the game's protagonist killing the computer-controlled character in a series of gruesome ways.
These included the woman being:
fed to an alligator
dropped down a mineshaft
shot in the face and fed to pigs
tied up on a railway track and run over by a train
set on fire
In linked comments, several users made jokes about the fact it was possible to assault a "feminist" in this way.
On Wednesday morning, the BBC asked the firm whether 10 such clips breached its policies.
YouTube subsequently removed eight of them, leaving two examples in which the suffragette was beaten but not killed.
Among those blocked was a clip that had attracted more than 1.5 million clicks within a channel that had attracted more than 473,000 subscribers.
The channel's UK-based owner was initially told he was also being banned from owning or setting up other accounts.
All of the creator's videos have since been restored, including clips of other characters being attacked within Red Dead Redemption 2.
One company-watcher said the incident pointed to a wider problem.
"YouTube's guidelines have been accused of being vague and open to interpretation, meaning even when YouTube does act upon them, its decision is often challenged as censorship," commented Teoh Lander-Boyce, co-editor of TenEighty magazine.
"It can seem to many creators that the guidelines are not enforced even-handedly, often taking either a massive outrage online or interest from mainstream media to get it to take notice.
"This disparity between when it does and doesn't act, and how it enforces the rules just points to a lack of clarity and understanding on what the community guidelines really mean."
Another YouTube creator also suggested the matter had been mishandled.
"It's interesting that in a huge beautiful game with an amazing array of things to do, that's actually pretty progressive in its storytelling... someone decided to take a character representative of progress for women and kill her in not just one but multiple ways for several videos," Outside Xtra presenter Ellen Rose said.
"It's also interesting, but not at all surprising, that these are some of that channel's most popular videos for months, and people in the comments are being weirdly gleeful about the idea of a women's rights campaigner - or 'annoying feminist' - being assaulted this way.
"I think that YouTube needs to stop and look at those responses when making decisions as to whether or not a clip is good for the site."
Suffragettes also appear in another part of the game, but attacking them there leads to the failure of the mission.
The BBC has asked developer Rockstar Games for comment.
Related Internet Links
The BBC is not responsible for the content of external sites.