Red Dead 2 suffragette clips deleted by YouTube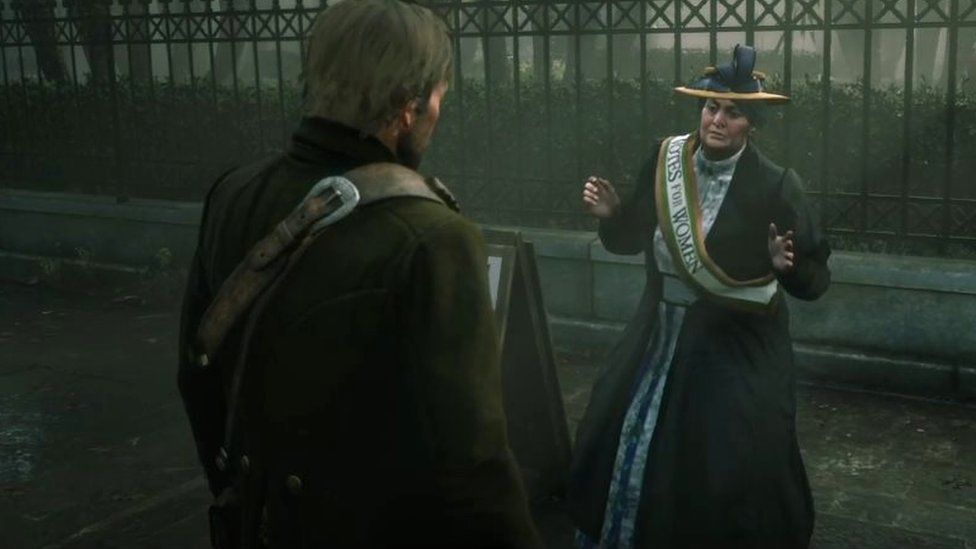 YouTube has deleted several videos posted to its platform of a suffragette being beaten and killed in the video game Red Dead Redemption 2.
The Google-owned firm said the recordings had breached its rules on acceptable content.
At least one of the clips had attracted more than one million views before it acted.
Several users had joked about the fact they were able to attack a "feminist" in the linked comments.
The Western-themed Red Dead Redemption 2 is set at the end of the 19th Century, about two decades before women were given the vote in all US states.
On Wednesday morning, the BBC asked the firm whether 10 clips breached its policies.
YouTube has since removed eight of them.
One of the creators involved had over 473,000 subscribers at the time and has had his channel shut down as a consequence.
"YouTube's Community Guidelines prohibit among other things, gratuitous violence, nudity, dangerous and illegal activities, and hate speech," said a spokeswoman from YouTube.
"Creative formats such as video games can be challenging to assess, but when content crosses the line and is flagged to our attention, we take action as necessary."
The videos had included the computer-controlled character being beaten, shot at, fed to an alligator and dropped down a mineshaft.
The firm has allowed a clip titled "hog-tying feminist" to remain in which the suffragette is caught with a lasso, pulled to the ground and has her hands bound, but is not killed.
The other remaining clip shows the woman being punched unconscious.
Suffragettes also appear in another part of the game, but attacking them there leads to the failure of the mission.
The BBC has asked developer Rockstar Games for comment.
Related Internet Links
The BBC is not responsible for the content of external sites.