Relief at social networks as defences hold - for now
Dave Lee
North America technology reporter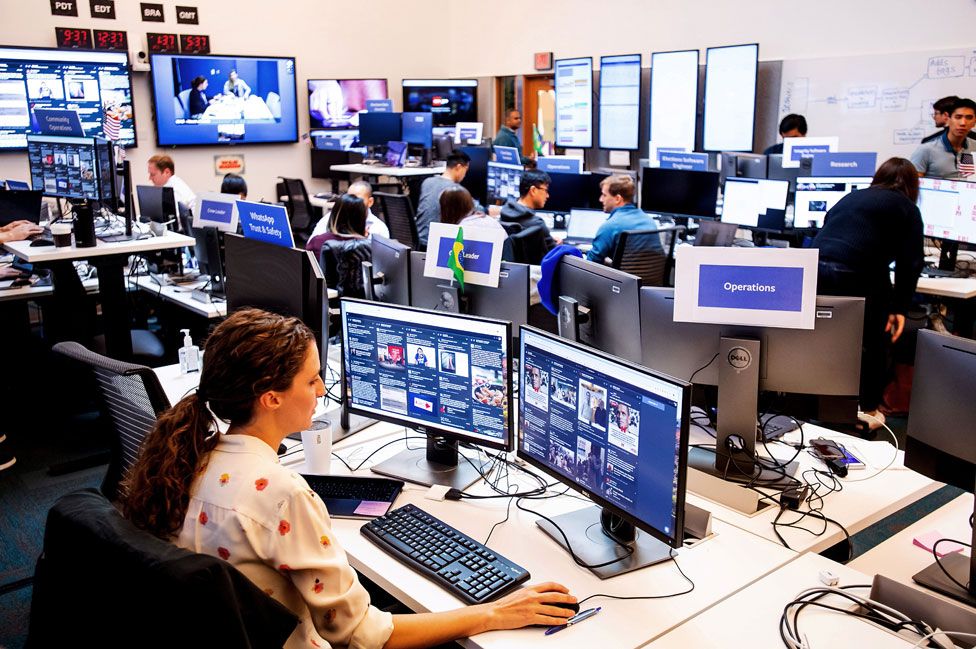 The last time the US went to the polls, it was nothing short of a disaster for the biggest social media companies.
Multiple congressional hearings later, a huge concern - would Facebook, Twitter and others be capable of protecting the integrity of the mid-term vote?
But, as polls closed, there was good news for Silicon Valley. Measures put in place appear to have been mostly effective, with co-ordinated influence campaigns seeing limited efficacy, and voter suppression efforts often stopped at source.
But, consider this phase one - experts warn the task may only just be beginning.
"I remain convinced that the real action will be after the election when we start to see the voter fraud, hacking claims start to roll in," suggested Bret Schafer from the Alliance to Secure Democracy, which runs a tool that tracks propaganda bot activity.
Alex Stamos, Facebook's former head of security, told the BBC he expected bad actors may seek to aggressively spread misinformation the day after the vote, in an effort to undermine the integrity of the result.
With regulators in multiple countries breathing down their necks, the consequences of another vote unduly influenced would have been dire for the social networking giants, which, after initially dismissing fears, now all admit they were too slow to react to abuses of their technologies.
On Monday, Facebook announced it had removed 115 accounts that had displayed "inauthentic" behaviour, the term the site uses for fake or propaganda accounts. Thirty of those accounts were on the main Facebook site, while 85 were removed from image-sharing site Instagram. It had been told about the accounts by US law enforcement, it said.
"So far we haven't seen anything unexpected," Facebook told the BBC on Tuesday afternoon, California time.
Earlier, Twitter said it removed 10,000 bot accounts from its platform after being alerted by the Democratic Congressional Campaign Committee. The accounts were seeking to convince people not to vote, by coordinating a hashtag campaign that suggested men should not vote in order to allow women to have the ultimate say. That "campaign", it later emerged, originated in message boards popular with members of the alt-right. An eye-opening report from NBC News discussed how misinformation efforts to tell people the vote was on Wednesday, not Tuesday, were perhaps being made more difficult by Twitter's moderators or algorithms.
Independent analysis from the Atlantic Council think-tank suggests these posts reached only a handful - around 5,000 - of Twitter users. That's 5,000 too many, perhaps, but Twitter will consider that a resounding success on a platform where viral tweets can quickly garner an audience of millions.
Some misinformation did slip through the cracks, however.
In one example, retweeted more than 4,000 times, a misleadingly cut together video showed images of flag burning with clips of a well-known US news anchor laughing. But, soon after being discovered, the video was blocked on the platform.
Bot activity was muted and, according to one activity tracker, actually down on previous days over the past month.
In the hotly contested and highly polarised race between Republican Senator Ted Cruz and Democratic hopeful Beto O'Rourke, bot-powered posts made up just 15-16% of posts for each candidate.
"One possible explanation for low bot behaviour in Texas is more organic tweets - due to the popularity of the race - leading to a comparatively lower portion of bot activity," said Max Jenkins-Goetz, from RobHat, a firm that created bot tracker, botcheck.me.
In particularly close races, in places such as Georgia and Michigan, bot accounts seemed to amplify views from genuine accounts, but mostly stopped short of pushing misinformation. In fact, according to another tracker - BotSentinel - the most popular terms among bots on polling days were things like "MAGA", "vote red" and "God bless".
The US Department of Homeland Security set up what it called a "situational awareness" room to monitor various aspects of election security, including misinformation efforts and the integrity of its election infrastructure, such as the electronic voting machines that many had warned were hopelessly insecure.
On social media, the DHS said it had discovered "intentional misinformation", but that it had been "rapidly addressed" by the network.
"We are not seeing any malicious activity associated with any of these technical glitches," the department said of "sparse" voting machine issues.