Boz: Defending Facebook's Portal gadget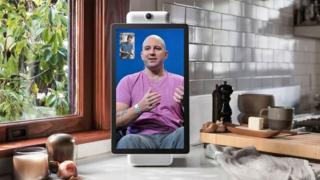 One of Mark Zuckerberg's longest-serving and most trusted lieutenants is making the case for Facebook to put a microphone and camera in your home.
It's not the easiest of jobs. Facebook is launching its Portal video chat devices off the back of two data breach scandals, the most recent of which still has many unanswered questions.
But Andrew Bosworth is about as wired into Facebook's culture as you can get.
He jumped ship from Microsoft at the start of 2006 - less than two years after Facebook's launch - and has since been instrumental in creating its News Feed, leading its Messenger and Video Call teams and heading up its advertising efforts.
These days his formal title is vice-president of augmented reality and virtual reality, but he is probably better known to the public as the author of Facebook's "ugly truth memo", which leaked in March.
It suggested that the social network believed "so deeply" in connecting people that anything that made it possible was good, even if people died as a consequence.
Mr Bosworth later said he had meant to be provocative but did not believe what he had written.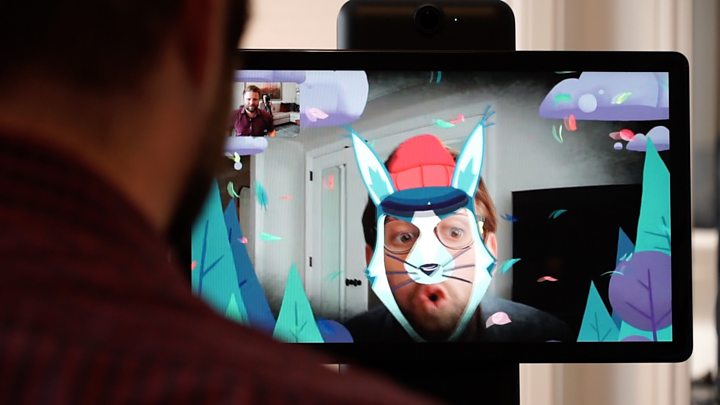 He met with the BBC's technology desk editor Leo Kelion last week, ahead of Portal's launch. These are edited highlights from the conversation:
You've just had another data breach scandal. Do you think that's going to put people off Portal?
From the very beginning, we knew that when you introduce a new product category into someone's home, you have to put privacy and security first.
So, that's been from the ground up on this device.
Shipping a camera cover with the tool, the fact that we do all the processing locally - we're proud of that from an engineering standpoint.
We've done all the processing locally on the device so that it doesn't send that information to the cloud, or is never stored on Facebook servers.
But I understand it doesn't use end-to-end encryption, so if the authorities came along and said Facebook, we want to be able to listen to this suspect's video calls, that would be technically possible for you to do.
The calls are encrypted in the same way they are on Messenger.
And for now that's been something that for all the people who have adopted Messenger, has been a standard of privacy and security that they've come to expect.
And that's what we're delivering on this device.
The prices at which you are launching Portal wouldn't seem to give you a chance of making a big profit from the hardware. Should we therefore suspect that given enough time, you'll add some kind of advertising?
We have no plans to add advertising to this and we have no ambition to make money on this piece of hardware right now.
Right now, we are exploring a new product space and we're going to see if this is the kind of thing that resonates with people and delights them as much as we hope it will.
I understood there were plans to launch this a while back and then the Cambridge Analytica scandal came along.
I read those rumours too... We had always been planning on a fall (autumn) launch.
Behind all this is Facebook's desire to connect people in different ways. But is that necessarily a good thing? Your controversial memo defended the idea, but making people super-connected can have unintended consequences, including the spread of fake news.
These devices are relatively focused on the networks that [users have] already built out on Messenger.
More broadly for Facebook, we've always worked to identify the harm that can come from the products.
I certainly regret not spending more time on that, in what was a not very thoughtful expedition that ended up getting exposed publicly,
That did not really demonstrate how much we have invested historically in identifying the harm.
But that's the kind of thing that we had to really redouble our efforts on over the last year, obviously.
We still remain as vigilant as we can be, but optimistic that finding people meaningful connections that are important to them - whether friends and family or communities that are particularly meaningful that they're motivated by - is a good thing for people to have access to and will decrease loneliness and isolation over the long-term.
Some studies suggest that when young people use Facebook, Instagram and other social media and see a glimpse of others' lives that appear fantastic, it can make them feel unhappy and more lonely. Are you aware of this risk?
We shared research ourselves in January that there are certainly uses of social media that are deleterious, and there are uses that we think are really positive.
And what you've seen over the course of the last year is Facebook reacts to that information by really trying to change the way the product expressed itself to people, moving towards meaningful social actions. In the research that we've seen, this shows a much more positive impact on how people feel in their wellbeing.
We certainly take tremendous responsibility for the impact that we've had on any given individual and on society as a whole.
And we work overtime to continue to improve the products, which is all that you can do.
The other thing I want to ask about is the amount of autonomy that you and other product leads have. The Instagram co-founders recently announced they are leaving and WhatsApp co-founder Brian Acton was critical in an interview given to Forbes.
I'm a huge fan of Brian Acton and also Kevin [Systrom] and Mikey [Krieger] at Instagram. I feel very lucky to have worked with all of them as much as I did.
They have all had a tremendous impact on not just their product areas but on Facebook as a whole, and on Mark's thinking and on my thinking.
In the industry that we're in, people move around quite often.
I actually think on average we've managed to engage founders longer than is normal for Silicon Valley at least. I feel quite lucky that we've been able to do so.
At the same time, there is a tremendous vibrant culture of debate internally.
And we push each other and try to advance causes that we believe in. And we do that until we identify something better to do with our time.