Tech Tent: Facebook's family feud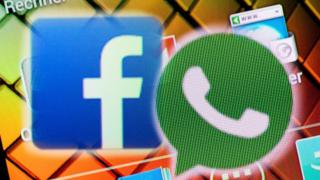 Instagram and WhatsApp - two extraordinarily innovative businesses that have grown and prospered since they were acquired by Facebook. But now their founders have moved on and on this week's Tech Tent we look at the bitter row about how the companies have fared under Mark Zuckerberg.
On Tuesday, Instagram's co-founders Kevin Systrom and Mike Krieger announced, out of the blue, that they were leaving the company. On the face of it, this was hardly surprising - after all they'd sold their company for $1bn (£770m) back in 2012 and six years is a lot longer than many founders stay on after cashing in.
The two said nothing negative in public about Facebook, but rumours quickly circulated that they had felt they were losing the independence they had been promised in running the image-sharing service and were unhappy with decisions about strategy.
The next day, another former member of the Facebook family came out swinging with some scorching criticism of the way Mark Zuckerberg and Sheryl Sandberg managed a business they had acquired.
Brian Acton, co-founder of WhatsApp, which was bought by Facebook for an eye-watering $22bn in 2014, revealed major disagreements over the monetisation of the service, and concerns about privacy. His remarks came in an interview with our Tech Tent special guest Parmy Olson from the business magazine Forbes.
Listen live every Friday at 15:00 BST on the BBC World Service
He left the company last year and a few months later, at the height of the scandal over the social network's use of data, he told his Twitter followers to delete Facebook.
In the interview, he says Sheryl Sandberg shot down a plan he proposed to charge a fee to some major WhatsApp users rather than seek to advertise based on the service's data. He also says he was persuaded to tell the European Commission that blending WhatsApp and Facebook data would be very difficult, only to find out later that there were plans to do just that.
And he now expresses regrets about the deal that made him a billionaire: "I sold my users' privacy to a larger benefit. I made a choice and a compromise. And I live with that every day."
Perhaps unsurprisingly, Brian Acton's agonising has been greeted with some mockery in Silicon Valley. The tech journalist Kara Swisher quoted a friend's take on the affair:
"I live with this guilt every day on this beach-front property here in Fiji. I can barely see my brand new 200ft yacht out there in the harbour through the tears I'm shedding for my users' privacy."
And from Facebook executive David Marcus there was anger rather than humour.
The man who heads the social network's experimental blockchain project rushed to defend Mark Zuckerberg's management of acquired companies. In a personal blogpost he said WhatsApp's team had been given unprecedented autonomy, all sorts of special treatment - larger desks, their own conference rooms - and a lengthy period without pressure to come up with a business model.
And then there was this: "Call me old-fashioned. But I find attacking the people and company that made you a billionaire, and went to an unprecedented extent to shield and accommodate you for years, low-class. It's actually a whole new standard of low-class."
Plenty of dirty linen being washed in public then. While many may feel that it is a bit rich to attack the people who made you, well, rich, this whole affair has made it another troubled week for Mark Zuckerberg.
With Facebook growth slowing, he needs Instagram and WhatsApp to start contributing more to the bottom line and will have to hope the teams behind them have greater faith than Brian Acton in his leadership.
Also on this week's programme: Does that Elon Musk tweet about having the funds secured to take Tesla private pose an existential threat to the electric car firm after the SEC charged its founder with misleading investors?
And we try out an app that claims to help you to speak more confidently without umm sort of filler words….and, like, you know…..lengthy, errr, pauses.