Scooter firms get a lesson in manners
Dave Lee
North America technology reporter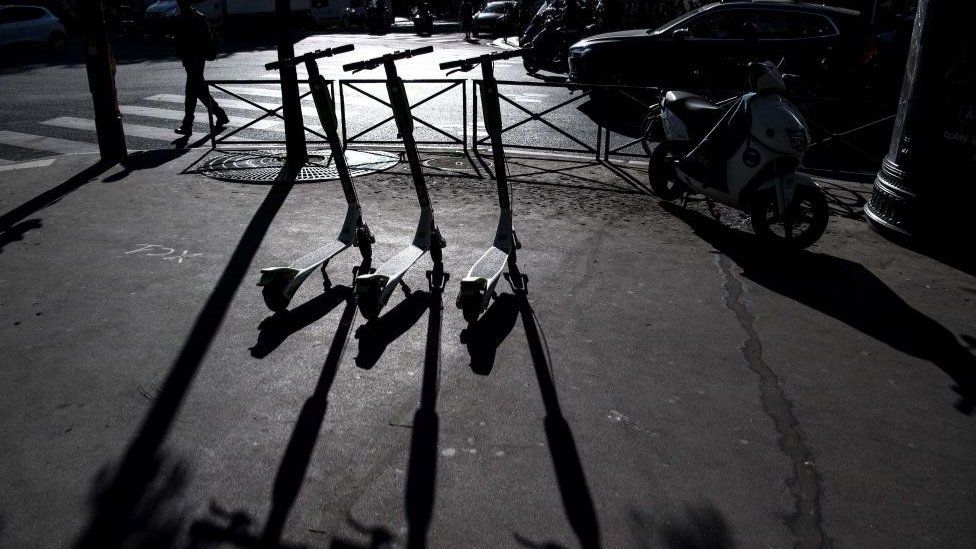 The scooters first descended on San Francisco like bees on a hot dog stand roof: they caused annoyance, inconvenience and fascination - before ultimately having to be cleaned up by city officials.
On Thursday those San Francisco officials made a big call: punishing the big players in scooters who chose not to seek permission to operate, while rewarding those which did.
It was in March when Bird, Lime and Spin, backed by millions of dollars, placed hundreds of scooters all over the city - assuming that seeking forgiveness would be the best approach.
It wasn't. Their hopes of an Uber-esque explosion - whereby the new tech became so popular no-one would dare ban it for fear of a revolt - were dashed when San Francisco said "Enough!" and ordered the scooters off the streets.
The San Francisco Municipal Transportation Agency (SFMTA) said it wasn't opposed to scooters. It was just that the companies had to play within the city's rules and desires over safety, reliability and accessibility. Firms that wanted to get a piece of this new opportunity were invited to submit their proposals. The best would be picked for a trial. Twelve applied.
On several key criteria, they apparently came up short. Neither firm demonstrated a satisfactory plan for helping low-income residents use the service. Nor did the companies have a good strategy, the SFMTA felt, for promoting the use of helmets. There was also not enough being done to stop riders misbehaving - or for banning those who did. Spin fared slightly better, but it too was deemed unsatisfactory.
Instead, the two firms awarded a one-year permit were Scoot and Skip. Scoot is already well-known to the people of the city having operated a moped rental service. Skip less so - it's a scooter company that launched first in Washington DC before moving on to Portland, Oregon. It's also testing in San Jose, Oakland and Berkeley.
That's far fewer cities than the dozens offered by Lime and Bird. Indeed, Lime accused the SFMTA of choosing "inexperienced scooter operators that plan to learn on the job, at the expense of the public good".
"I don't think that's true," said Tom Maguire, director of SFMTA's sustainable streets division. "These are operators with a proven track record."
When I reached Skip's chief executive by phone on Thursday, he said his company's slow roll-out wasn't just intentional - it was polite.
"You know, starting your process off by working with cities often means waiting and being patient before putting scooters on the ground," Sanjay Dastoor told me.
"We're based in San Francisco, but we actually first launched our scooters in Washington DC - and that's because we were able to work with DC to create a permit pilot programme for electric scooter sharing.
"It's always been our intention from the beginning to work with cities collaboratively as the first step."
In San Francisco, where the general populace hates tech more than you might think, the scooters became a symbol of immense arrogance.
While Uber was hugely disruptive, they were just cars. The scooters were a new sight, stored in places designed for pedestrians, and in your way whether you used them or not. In just over one month, residents logged 1,900 complaints with the city.
"Complaints ranged from scooters blocking sidewalk access to unsafe riding in the public right-of-way," the SFMTA said.
"San Francisco Public Works had to impound more than 500 scooters that were blocking sidewalks or otherwise improperly parked."
Mr Maguire told the tech firms they must innovate to solve some of the problems scooters had created. In awarding the trials, the SFMTA said it was impressed by Scoot's plan to "use swappable batteries instead of manually taking the scooters off the street for regular recharging", which it said would reduce congestion. The scooters are charged by a network of people who drive around and pick them up, sometimes to be charged in front rooms, as I experienced myself recently.
Skip proposed a plan to give a "50% discount for low-income users" and training in maintenance and management. Other ideas from Skip include incentives, like ride credits, to park the scooters in more favourable locations.
Different picture in Santa Monica
San Francisco wasn't the only city making scooter decisions on Thursday.
Santa Monica, the beautiful beach city near Los Angeles, said it would allow four companies to take part in a 16-month trial. The Shared Mobility Device Selection Committee chose Bird, Lime, Lyft and Jump (which is owned by Uber).
In great contrast to San Francisco, Skip and Scoot performed poorly against Santa Monica's criteria, which considered "experience" and "ability to launch" as key factors.
And so it's clear each city might make a different call on this one - as well they should. Every city is different. Creating policies that suit best its residents, rather than letting technology companies call the shots, is what people should demand - without fear of being branded "anti-innovation" or luddite.
What scooters could represent, you might hope, is a shift from technology companies wearing rapid disruption as badge of honour, and instead displaying a modicum of respect for the institutions set up to protect and serve society. The streets are paid for by us, not them.
And if tech companies don't see it that way, city officials are at least showing signs of adapting to the challenges, having been caught on the back foot by the ride-sharing boom.
"I think the change of attitude has been that we will continue to support and welcome innovation," Mr Maguire says. "But we've been much more proactive in defining what the public interest is."
Do you have more information about this or any other technology story? You can reach Dave directly and securely through encrypted messaging app Signal on: +1 (628) 400-7370