Tech Tent: Why did Facebook falter?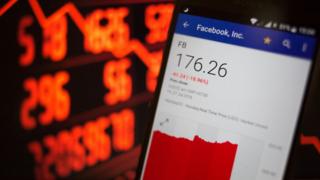 On Wednesday evening, Facebook issued what looked at first glance to be some pretty solid results. Revenues for the second quarter were up 42% on the previous year, monthly active users had risen by 11% to 2.23 billion, and the firm had made record profits.
But the following day the shares opened almost 20% lower, wiping more than $120bn from the market capitalisation of Facebook - or as the BBC's business editor Simon Jack put it, a "shocking piece of value destruction".
Listen live every Friday at 15:00 BST on the BBC World Service
---
On this week's Tech Tent we ask whether this was just a blip or represents the moment the air came out of the tech bubble. This year the Faangs - as investors have come to describe Facebook, Apple, Amazon, Netflix and Google - have marched ever higher underpinning the whole stock market.
But any failure to meet the extraordinarily inflated expectations of stellar growth can send shares tumbling - as Netflix found last week when its subscriber numbers were not quite as good as the market had hoped.
What troubled investors in Facebook was not just that the results came in a tiny bit lower than expected, but that the company warned of more modest growth and profit margins in the coming months.
Now Facebook has been warning for a while that the cost of dealing with various privacy scandals was going to affect its bottom line as it recruited more staff - and the figure showed its workforce increased by nearly a half over the last year. But somehow it still came as a shock to investors when what had been predicted came to pass.
There are reasons to be cautious about Facebook's future growth - after all just about everybody in the United States and Europe who wants to use its service is probably already on board.
But let's put this in context - even after Thursday's dramatic tumble, Facebook's share price was only back down to the level of early May, when it was climbing out of the slump caused by the Cambridge Analytica revelations.
More evidence today that when it comes to news about social media audiences, the market just can't handle the truth. Twitter shares are tumbling after its latest results showed monthly users falling by one million to 335 million. But the company said that was partly due to its drive to get rid of fake accounts - a story it has been talking about for weeks.
Now bots, spammers and other phony accounts are damaging in the long term to any platform which is telling advertisers it is a good safe home for their messages. But it seems that investors don't mind if millions of Twitter accounts are fake as long as the overall number keeps rising.