YouTube's paid music and video services come to UK
By Leo Kelion
Technology desk editor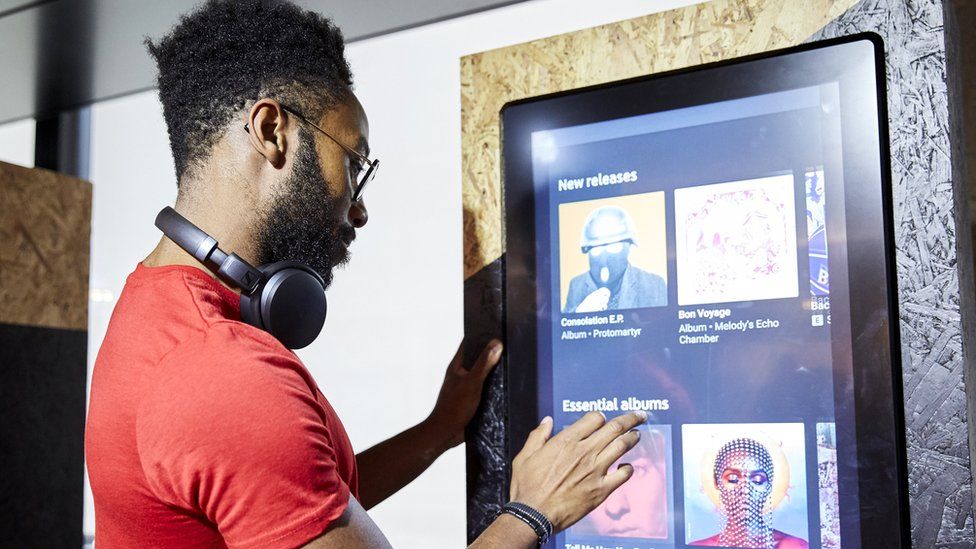 YouTube is expanding its subscription-based music and video services to the UK and a further 11 countries.
The "premium" facilities strip ads from the platform's content and allow it to be downloaded rather than just streamed.
The music service is priced at the same rate as Spotify, Apple Music and Tidal's basic service.
However, the wider video content - which supersedes YouTube Red - is available only at an additional cost.
It includes about 65 series - including several exclusives featuring popular YouTube video-creators - with the promise of a new addition on roughly a weekly basis.
However, it costs £11.99 a month for individuals or £17.99 for a family plan, which is significantly more than either Netflix or Amazon Prime Video.
This may make it a challenging sell to users attracted by the exclusive video content but who are already satisfied with a rival music-streaming service.
One company executive, however, suggested that what made the proposition compelling was the fact that videos could be played without ads, offline and/or in the background while apps were in use.
"I'm trying to say to people that it's not a new music subscription or a new Svod [subscription video-on-demand]. It's really YouTube done better, with those additional things thrown in," Luke Hyams, European chief of YouTube Originals, told the BBC.
Canada, Ireland, France, Russia and Germany are among the other countries gaining the services.
YouTube Music Premium works on Android and iOS phones and tablets, as well as Google's Home smart speakers, but not Amazon's Echo devices.
In time, the plan is for it to replace the existing Google Play Music app.
YouTube's pitch is that "it's all here" - a reference to the fact that it hosts live recordings, remixes, covers and mash-ups that are unavailable elsewhere.
In addition, the company claims to have a superior search facility to those of its rivals, allowing users to find songs even if they provide muddled-up versions of the lyrics.
However, none of this is exclusive to the subscription service, so its appeal will in large part rest on users' desire to be able to listen to the songs without an internet connection.
However, it noted that the lack of a desktop app and the use of location data to provide recommendations might deter some.
The video package - called YouTube Premium - is based on a library of original content produced for the YouTube Red service over the past two years.
Until now, it had been limited to the US, Australia, New Zealand, South Korea, and Mexico.
Two new shows are being launched to coincide with the wider rollout:
F2 Finding Football - the two British hosts of F2 Freestylers, which is described as YouTube's most popular football channel, explore the sport's cultural impact around the world
The Sidemen Show - an existing group of seven YouTube videomakers from the UK are posed challenges by a number of celebrities, in a programme described as being a mix of The Inbetweeners and Top Gear
YouTube Premium also contains more traditional content, including a follow-up TV series to the 1980s' Karate Kid films, and a spin-off show to 2008's sci-fi movie Jumper.
But one expert said YouTube's fastest route to building up an exclusive deep library of content would be to call on its homegrown stars.
"YouTube already has a great network of people producing material for it, and it won't be short of pitches from them," said Hannah Bowler, from the trade magazine Broadcast.
"If it ramps up its commissioning, it could build up a slate of content quite quickly."
The risk, however, is that many of YouTube's most popular creators end up spending most of their time making content for a section of the service unavailable to most of its users, which in turn could make the wider platform less appealing.
Related Internet Links
The BBC is not responsible for the content of external sites.