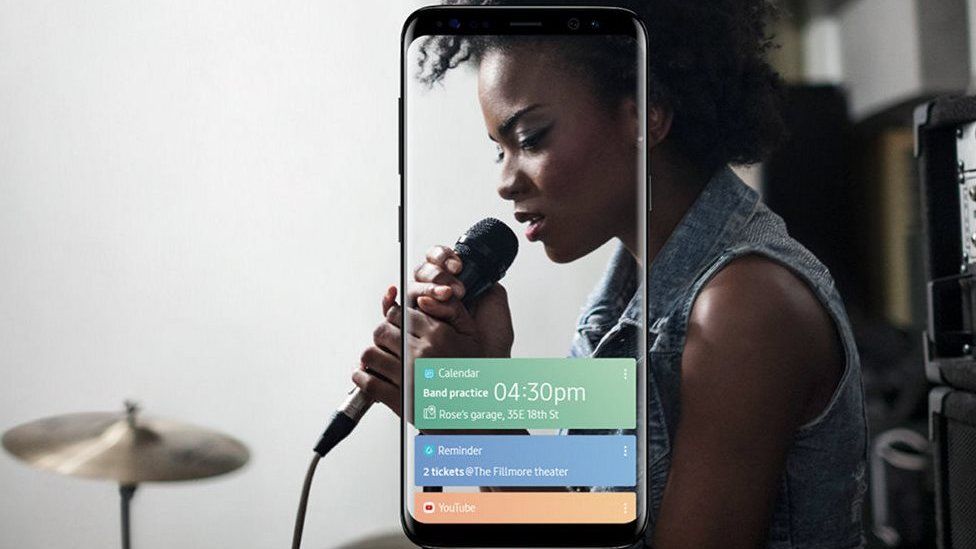 Korean tech giant Samsung has announced a major investment in artificial intelligence research in the UK.
The company is to open an AI research lab in Cambridge, in a move that has been welcomed by the prime minister.
The lab will join other Samsung centres dedicated to the topic, based in Moscow and Toronto. The technology is now seen as key to competing in many industries.
The UK has been a hotspot for AI research. But there are concerns about a growing skills shortage.
Samsung says the lab will focus on health and communication.
Theresa May said the announcement was "a vote of confidence in the UK as a world leader in artificial intelligence" and would create high-skilled highly paid jobs.
The new centre could recruit as many as 150 scientists - although Samsung is being quite vague about its precise plans.
It will be led by Prof Andrew Blake, an AI pioneer who previously ran Microsoft's research lab in the same city.
The Bixby smart assistant is one example of Samsung's deployment of AI. But there have been teething troubles with the technology, which has had a lower profile than Apple's Siri or the Google Assistant.
Samsung intends to have AI technology on all its smart devices by 2020.
But finding the right skills in the UK could be a challenge.
A recent study by recruitment specialists Odgers Berndtson found just 225 students in the country were doing post-graduate technology research in specialist areas including AI and machine learning.
"In the US, PhD qualified experts can command packages of $300,000 [£223,000]. And in the UK, whilst not yet at that level, salaries are spiralling," said Mike Drew, head of technology at the headhunting company.
A large part of the problem is that industry is picking university departments clean of their talent.
A distinguished academic in the AI field confirmed this to me - he said anyone who had done post-graduate research in machine learning could "name their price".
He suspected that Samsung was already struggling to find the people it needed.
The competition is fierce, with much of the academic talent already swallowed up by Google's DeepMind, whose London office now houses more than 700 people.
That workforce comes from across Europe and the rest of the world.
Samsung says it is also casting its net far and wide.
"We are aggressively recruiting outstanding talents on a global basis," it said.
I asked whether the company had received any reassurance from the UK government about its ability to recruit global talent post-Brexit.
I received a waffly response about Samsung's commitment to the UK but no clear answer.
Still, a government committed to a leading role for the UK in AI research will surely look kindly on requests for visas for people of rare talent in this field.
Ministers will also be looking nervously across the Channel.
On Wednesday, President Emmanuel Macron has lured the chief executives of Facebook, IBM and Intel - among many others - to Paris for his Tech for Good summit.
Don't be surprised if the man who has trumpeted France's ambitions to be a leader in AI is able to unveil new investments and lots of new research jobs.
And the betting is that any announcement could make the news from Samsung look pretty puny in comparison.