Cocaine breathalyser 'one step closer'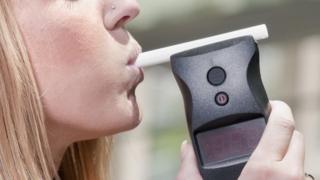 Researchers in the US say they have developed a low-cost chip that can detect cocaine in minutes.
The team hopes it will lead to the development of a portable cocaine breathalyser that can tell if a person has used the drug.
At present, it says the chip can only analyse substances extracted from blood, breath, urine or saliva samples using a purification process.
One road safety group called the research "exciting".
The new chip is significant because it costs only a few pence to produce.
"These findings have the potential to improve the speed and accuracy of roadside drug testing," said Joshua Harris from UK road safety charity Brake.
"Shockingly, drug-driving was a factor in 81 fatal road crashes in 2016 and it is clearly an ever-increasing danger on our roads.
"We are calling upon the government to prioritise the type-approval of roadside screening devices that can detect all banned drugs and step up roads policing levels to deter offending."
'Layer cake'
Many chemical compounds can be detected using an existing technique called surface-enhanced Raman spectroscopy (Sers).
"The chips used for Sers are typically fabricated using expensive methods," said researcher Nan Zhang from the University at Buffalo, New York.
"We created our chip by depositing various thin layers of materials on a glass substrate, which is cost-effective and suitable for industrial-scale production."
The university has described the chip as a "layer cake", in which an insulating material is sandwiched between a silver mirror and a layer of material made from gold and silver nanoparticles.
When a substance such as cocaine is put on the chip's surface, light is "scattered" and forms recognisable patterns that act as fingerprints, revealing what is present.
The researchers said the chip had a long shelf life and found that it worked well after 12 months in storage.
The next stage of the research is to create a portable testing device to detect cocaine.
The researchers hope the chip will also be able to detect marijuana.