The Ocado robot swarms that pack your shopping
By Zoe Kleinman
Technology reporter, BBC News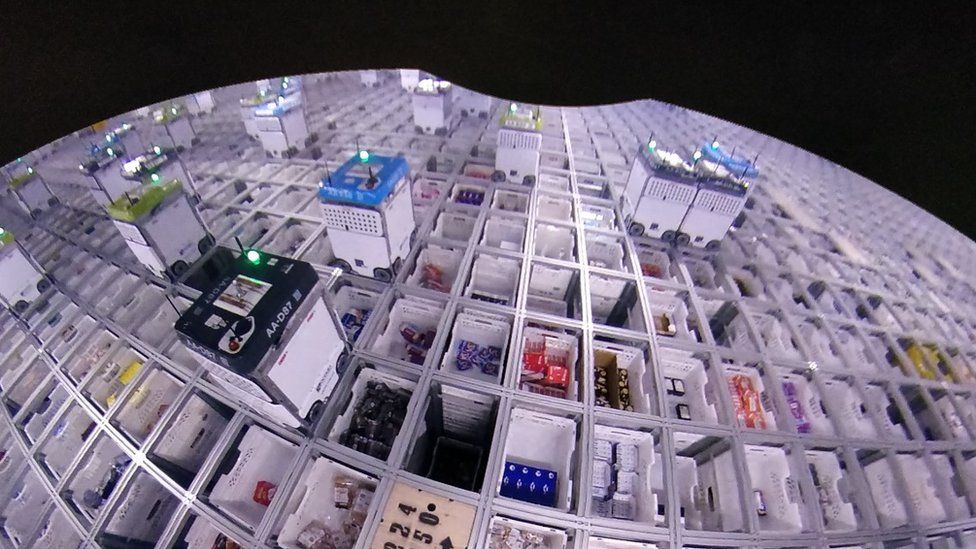 The first things you notice are the chill in the air, the vast grid on the floor which makes you feel like you're on the film set of the movie Tron, and the whooshing sound of wheels skimming across aluminium.
The last thing on your mind is buying groceries.
But that's what's going on here. I'm standing upstairs in an Ocado warehouse in Hampshire, England, where grocery orders are assembled and dispatched, watching hundreds of cuboid robots whizz around on a vast metal grid that stretches out as far as I can see.
The grocery giant doesn't often let journalists in to its 18 acre (784,080 sq ft) Andover site.
With the exception of two or three maintenance engineers on standby, my guide and I are the only humans in the vast space. For a warehouse, it's quiet and uncluttered - and somewhat mesmerising.
It processes 65,000 customer orders per week and doubles up as a sort of living robotics lab.
The robots, complete with green flashing lights, are collecting crates of food that sit in stacks beneath the grid and delivering them to chutes, where human workers beneath take the number of items they need to complete an order and then the crates are lifted back by the machines and returned to their spot.
Next to the humans, a robotic pick machine refines its skills, practising picking up items and putting them into boxes. It is quite possibly their future.
Back on the grid, each box is home to a different sort of grocery, and the crates sit in piles. If a robot needs a crate that is not at the top, others come along and lift out the ones that stand in the way.
Ocado chief technology officer Paul Clarke describes the 1,100 collaborative members of his robot swarm as "friends" - although they are, in effect, all the same machine.
They travel quickly - up to 4m per second (8.9 mph) - and can pass within 5mm (0.2in) of each other.
They don't often crash, I am told - although there are some crumpled crash barriers in sight - and recovery vehicles also wait to rescue any breakdowns because humans cannot enter the fenced-off grid.
Sometimes, eerily, they all pause at once.
Occasionally they return for a battery top-up - they are never fully charged but operate on bursts, so they are never idle for long.
The machines communicate via a bespoke unlicensed 4G network created by Ocado.
My guide Alexandru Voica describes them as a cross between a phone and car because of their autonomous movement and 4G capability. They remind me a little of K9, Dr Who's vintage robot dog.
The tech has already been licensed to Morrisons supermarket in the UK, Groupe Casino in France and the Sobeys chain in Canada.
One expert said the technology promised huge efficiency savings - but still had major challenges to overcome.
"At some stage, there are always problems with any mechatronic system - systems will break down," explains Prof Chris Melhuish from Bristol Robotics Laboratory.
"The trick is for them to degrade gracefully in a controllable fashion.
"Robots will need self-diagnostics, they need to know when they're not performing as they ought to.
"No machine is infallible, and whatever intelligence it has, it has got to be sophisticated enough to know what it is doing, what it is supposed to be doing and the difference between the two."
Ocado has further ambitions to automate the entire delivery process - but do its customers care?
"Some do, but many probably understandably take it for granted," said Mr Clarke.
"People are increasingly becoming aware that robots and AI are behind many of the services they are starting to use.
"I think they would be surprised to see the scale of the automation that we bring to bear in order to do something that looks relatively mundane like having your groceries delivered."
At Alibaba's packing centre in the Guandong province of China, robots are said to do 70% of the work. The firm says the robots have made the warehouse three times more efficient. "It helps as it saves me walking to every shelf and picking up the goods," Li Yan told BBC Click."Now I just stand at the pick-up platform and wait for the robot to bring the goods to me."
Visiting one of Amazon's most recently opened "fulfilment centres" or delivery warehouses, the Chicago Tribune noted that the online retailer deploys at least 100,000 robots worldwide to move shelf towers containing stock around in these centres.
In 2017, delivery firm DHL Supply Chain announced that it had purchased four robots known as Sawyers to help UK warehouse staff pack goods. The firm packs more than 50 million cases each year from 19 warehouses around Britain. Sawyer robots, developed by the firm Rethink Robotics, can respond to touch and operate alongside humans.