US retirement village to have 'largest' self-driving taxi scheme
By Daniel Thomas
Technology reporter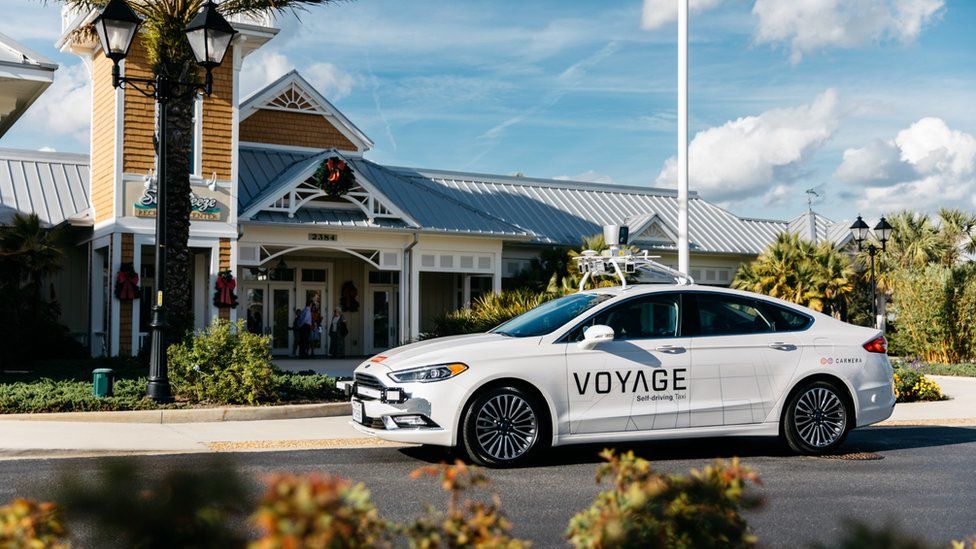 One of America's largest retirement villages will have a fleet of self-driving taxis introduced next year.
US firm Voyage said it will start rolling out the service at The Villages, Florida which is home to 125,000 senior residents.
It said the scheme, spanning 750 miles of road, would be the "largest by area size" in the world.
It comes as safety concerns about self-driving cars persist after testing problems and some accidents.
Voyage already operates a handful of driverless taxis at another retirement community in San Jose, California, also called the Villages, but said it had begun testing vehicles in Florida ahead of a much larger roll-out.
"[Then they can] travel anywhere within the bounds of the community fully autonomously," it said.
The sprawling Villages encompasses three distinct downtown areas, more than 100 dining options, eight major supermarkets and 7.8 million sq ft of commercial real estate.
Most experts agree robot cars will first be deployed as fleets of self-driving taxis in controlled environments such as university campuses, business parks or retirement communities.
But some research suggests the elderly are unlikely to trust robot cars.
According to a 2016 survey by Kelley Blue Book, a car valuation and research firm, only 9% of those aged 51-64 said they felt confident enough to travel in a fully driverless vehicle, compared with 38% of those aged 12-15.
Voyage's self-driving cars aren't fully autonomous: all have safety drivers behind the wheel, who can intervene in an emergency.
The firm said it predicts "high demand" from residents and has reportedly given an equity stake in its company to the owners of The Villages.
Florida is one of more than 20 US states to have approved the use of autonomous vehicles on its roads. But while experts say self-driving technology could make driving safer, fears about the technology persist.
On Wednesday, a self-driving car operated by Argo AI, a firm backed by Ford, was involved in a crash in Pittsburgh that led to two people being hospitalised.
Early reports suggest the accident was the result of human error.
Ford declined to comment on whether the vehicle was in self-driving mode at the time, or whether Argo has stopped testing the cars while it investigates the crash.
In an email to tech news site the Verge, it said: "We're aware that an Argo AI test vehicle was involved in an accident. We're gathering all the information. Our initial focus is on making sure that everyone involved is safe."