FBI seeks to unlock Texas shooter's iPhone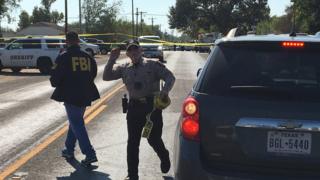 Apple has offered to help the FBI unlock the smartphone of the gunman who killed 26 people at a church in Texas last Sunday.
Devin Kelley wounded 20 others at the First Baptist Church of Sutherland Springs and was later found dead in his vehicle, some miles away.
The FBI said his handset had been sent to its central crime lab, in Virginia, as local police could not unlock it.
Apple said it had "immediately" offered to help.
The company said it worked with law enforcement agencies every day and had trained "thousands" of officers about the best way to handle its devices and how to request information.
If Kelley had saved his phone data on Apple's iCloud service, this too may hold information about numbers called, messages sent and pictures it was used to take.
Dead man's finger
"It actually highlights an issue that you've all heard about before, the advance of the technology and the phones and the encryptions," said FBI special agent Christopher Combs.
"Law enforcement, whether at the state or local or the federal level, is increasingly not able to get into these phones."
However, there has been speculation the FBI may have missed an early chance to get at data on Kelley's phone.
Apple iPhones locked with a fingerprint ask for a passcode only after they have not been unlocked for a 48-hour period.
And it is therefore possible the phone could have been unlocked by the dead man's finger in the hours after his death, provided it had not run out of battery, or been deliberately switched off or rebooted.