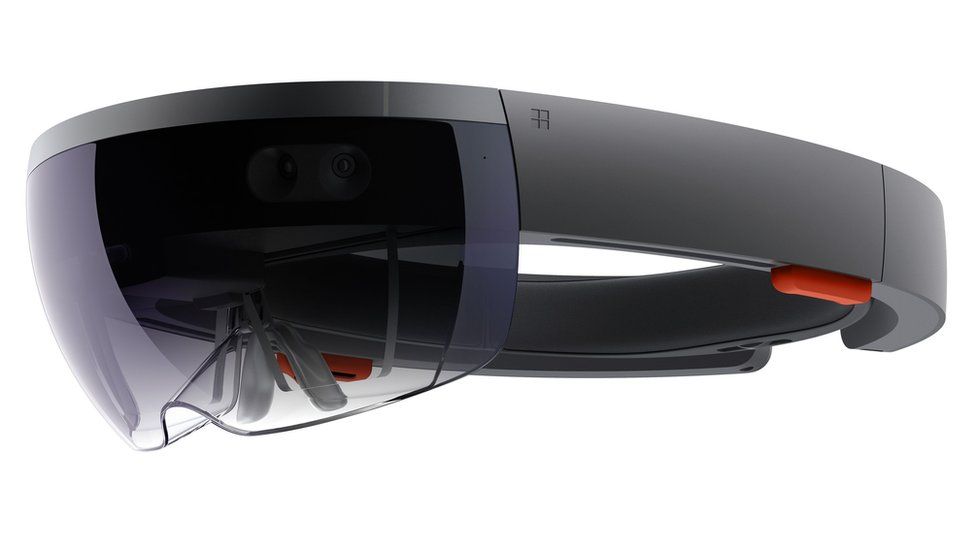 This is a big week for virtual reality, with Sony's PlayStation VR headset going on sale on Thursday.
But Microsoft, which has steered clear of VR, is going down a different path with what it calls mixed reality - a term it prefers for some reason to augmented reality.
It has just announced that its HoloLens headset is coming to six new countries, including the UK. Pre-orders open today and deliveries will follow in late-November.
The headset is packed with sensors and delivers to users a view of the real world overlaid with virtual objects in the form of hologram-like graphics.
In the US, where it has been available since March, applications for the headset have been developed by a range of commercial partners, including Nasa, Audi and the furniture retailer Lowe.
And just as in North America, the HoloLens is going on sale only to developers and companies, at a price of over £2,700.
Microsoft believes there will be consumer applications in the longer run, but for now is concentrating on what the mixed reality experience could do inside businesses.
I got a demonstration in London this week, with a chance to see three different examples of how it might be used.
First, in something developed by Microsoft itself, I made a Skype call from the headset to an electrician - you can see a demonstration on YouTube.
I was able to have his face on a screen in the wall next to a defective power outlet.
Then, because he could see my real world through my headset, he was able to take me through the tools I needed, which were sitting on a table, and draw virtual lines on my real wall.
I would prefer a visit from the electrician, but it was a good example of how the technology could be used to make remote meetings a bit more real.
The lift company Thyssenkrup is already using a version of this application to give engineers in the field access to advice as they undertake repairs.
Then, I moved into a sitting room where I learned how to move "holographic" objects around by tapping and pinching them so that I could see how furniture or paintings might work in different locations.
And finally, there was a project conceived by Case Western university as a teaching aid for medical students.
A human body appeared in the middle of the room, with first the skeleton, then the internal organs made visible.
The fact that you could walk around the 3D and control which layer you saw was a powerful illustration of the interactive possibilities of this new medium.
I emerged from the demonstrations with a slight neck ache - the headset is not heavy, but you have to concentrate on keeping it at the right angle - and a sense that this was exciting but still unproven technology.
What remains to be seen is whether this mixing of the virtual and real worlds can produce an application with mass appeal, rather than being a useful but not essential training tool for enterprises.
Amid all the hype about VR, Microsoft is not alone in believing that augmented - sorry, mixed - reality may be a bigger deal in the short term.
But both technologies have yet to clear a significant hurdle: convincing millions of consumers that they need to don a headset and take a different view of the world,