Gamer's funeral live-streamed on Twitch TV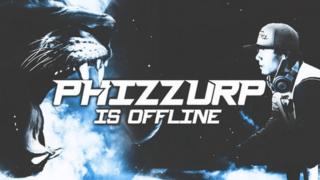 The funeral of a 24-year-old professional video gamer from the US who was killed in a car crash has been streamed on live video gaming platform Twitch.
The nine-minute video is still viewable on Phillip Klemenov's Twitch channel and has been watched more than 30,000 times.
Mr Klemenov, known as Phizzurp, died on 2 October.
He played Call of Duty and had recently been part of the professional team H2K.
Amazon-owned Twitch is a live-streaming platform where gamers stream video of themselves playing video games and others watch the action in real time. They can also leave comments in the chatroom - which has a reputation for controversy and heated debate.
Phizzurp's Twitch channel has had nearly six million views.
'Genuine thanks'
"Twitch may not seem the ideal platform for this kind of event, given its chat system's reputation," wrote Luke Plunkett on gaming website Kotaku.
"But the sections I saw - and to be honest, I only saw a little because I was uncomfortable 'peeking in' on the funeral of a person I did not know - were full of fans remembering the impact Klemenov had on their lives and leaving comments of genuine thanks and respect."
Phizzurp was killed with his friend Marcelous Johnson in a road accident in Colorado.
A crowdfunding campaign set up to cover his funeral costs has so far raised $18,000 (£14,000). A similar campaign for Mr Johnson has raised over $5,000.
E-sports commentator Chris Puckett described Phizzurp in a video as "a great entertainer, fierce competitor and friend" who had been a professional Call of Duty player since 2011.
Gaming website UMG is planning to host a $10,000 tournament in memory of the gamer on 16 October.