Tinder 'violates privacy rules', claims Belgian MEP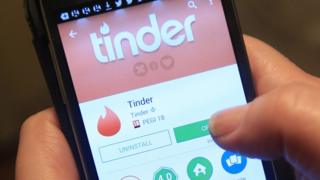 Makers of the popular dating app Tinder have been accused of breaching EU rules by recording the personal data of its users without explicit consent.
Marc Tarabella, a Belgian politician and Member of the European Parliament (MEP), says the app does not appropriately warn users of what data it is able to access.
The MEP has called for an investigation into Tinder's practices.
Tinder has said it will review its data privacy policies.
In a statement issued to the BBC, the company said: "We take Mr Tarabella's comments seriously, and we will review them as part of a process that is already under way at Tinder to best address the needs of our users and ensure we are compliant with applicable privacy laws."
The dating app launched in September 2012 and became famous for its swipe feature, where users can quickly thumb through photos of dating hopefuls and make snap-decisions on any who interest them.
But Mr Tarabella claims that Tinder does not make clear how much personal data of each user it controls in the process.
"Once you subscribe, the company can do whatever it wants with your data. It can show them, distribute them to whomever or even modify them," Mr Tarabella said.
Tinder, which is owned by the dating corporation Match Group, can only be accessed once the app is synced with a user's Facebook account.
According to Tinder's privacy policy, that gives the app access to each person's Facebook profile, email address, interests, likes, gender, birthday, education, location, photos, a friends list and more. Tinder says it can also store this data.
'Not just Tinder'
Peter Church, a technology expert from law firm Linklaters, says this is not just a Tinder issue, claiming that many apps and services could be in breach of EU data privacy rules.
"Some apps are potentially very intrusive," he told the BBC.
"The challenge is to make sure individuals understand what information is being collected and to give them choice and control."
The EU is in the process of hardening its data protection laws, which were originally drafted in 1995. One change to its policy is how much regulators can fine companies that do not comply, with penalties as high as 4% of global turnover or 20m euros (£15.8m), whichever is greater.
But it is up to each of the EU's member countries to enforce these rules.
Mr Tarabella, who previously lobbied for the separation of Google's search and commercial businesses, said the chief concern with Tinder is its "lack of transparency".
"The problem is always the lack of transparency and the notion of consent," he said.
Mr Church said explicit consent remained a key legal issue because important details are often buried in vast privacy policies.
"Regulators do not like the idea of a company doing whatever it wants with your information just because it is in that company's privacy policy," he said.
"Most people don't read privacy policies and don't have much choice over their content."
The new European data protection law, which will apply in May 2018, will "make it much harder for companies to get consent this way," he added.
Tinder claims it connects 26m dating hopefuls per day across some 200 countries. It did not respond to requests for comment when approached by the BBC.
Update 5 August 2016: This story has been updated to include a response from Tinder.