Teachers fired over offensive private messages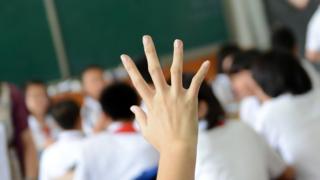 Three US teachers have lost their jobs after a private chat between themselves on messaging service Slack, in which they insulted pupils, was leaked.
Screenshots of the messages were emailed to students and staff at Blackstone Valley Prep High School, in Cumberland, Rhode Island.
The email came from one of the teachers involved, in an apparent hack.
The messages included calling named pupils "idiots" and "scum" and mocking their academic performance.
The screenshots also revealed insults about the parents of those attending the school, reported local newspaper the Providence Journal.
Headmaster Jeremy Chiappetta said the teachers, who have not been named, had left the school following an internal inquiry.
The investigation had found the allegations against the three were true, he said.
"I want to be crystal clear, many of the comments written are deeply disturbing and offensive," he wrote in an open letter to the school community, published online.
"Parents put their trust in teachers and the school, and that trust has been violated."
Guidelines for teachers using social media tend to focus on public material rather than private chat.
British teaching union NASUWT warns members against making "disparaging remarks about your employer/colleagues" on social networks but does not mention the use of direct messages or private channels.
It also advises teachers to log out of all accounts after using shared computing facilities at work.