Snowden: Russian data collection plans 'dangerous'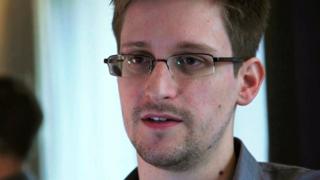 US whistleblower Edward Snowden has criticised new anti-terrorism legislation approved by Russia's parliament.
He wrote on Twitter that the "Big Brother law" was an "unworkable, unjustifiable violation of rights that should never be signed".
Among the new rules are tough punishments for failing to report crime, or inciting terrorism online.
It must still be signed into law by Russian president Vladimir Putin.
Mr Snowden, a former contractor for the CIA, fled to Russia in 2013 after leaking details of extensive internet and phone surveillance by the US National Security Agency.
Commenting on the law, he wrote: "Mass surveillance doesn't work. This bill will take money and liberty from every Russian without improving safety."
The new rules - known as "Yarovayan's legislation" after politician Irina Yarovayan - state:
telecoms companies must keep copies of customers' phone calls and text messages for six months
phone and text records (but not the messages themselves) must be kept for three years
online services (such as social networks) must keep message records for one year
online services that encrypt data must help security services decrypt any message sent by users, or face a fine
failing to report knowledge of a crime will become a criminal offence - punishable by up to a year in prison
inciting or expressing approval of terrorism online will be regarded as publishing such comments in mass media - punishable by up to seven years in prison
children aged over 14 can be held criminally liable for 10 new charges such as taking part in terrorism
However, rules that would let law enforcement revoke Russians' citizenship, or revoke people's right to leave Russia, were removed from the legislation.
The legislation has been criticised by opposition politicians. Yuri Sinelshchikov warned that storing telecoms data could lead to abuse by officials, while Dmitry Gudkov said the laws would be a heavy burden on businesses.
"Instead of competing and entering new markets and improving connection quality, our telecommunications companies will have to deal with this stupidity," he said.
Mr Snowden said asking companies to store six months of communication data was "not just dangerous, it's impractical".
Russia's State Duma approved the final draft of the legislation on Friday. The country's Federation Council must approve it before President Putin signs it into law.
---
What happens next?
By Vsevolod Boiko, BBC Russian Service
The State Duma passed the law on the last day of work before its vacation - and the final version was changed at the last moment.
Now online services will be told to keep information about users' communications for one year instead of three.
That's the result of hard talks between MPs, security forces and IT companies, according to the Russian Vedomosti newspaper.
But it doesn't mean that IT firms won the battle - they just partially reduced the harm.
The law has been backed by 287 MPs from the ruling party United Russia - although 147 MPs voted against the law - and it will now go to the Council of Federation, the upper house of the Russian parliament.
It's almost certain that it will be passed in its current form, and the Council is expected to vote this week.
Then, finally, the law will go to the president and he can sign it any time he wants - the next day, or a few weeks later.
We can expect that IT companies will try to campaign for the law not to be signed - but the chance that their voice will be heard by Mr Putin is very small.