Fans protest after Twitch account switch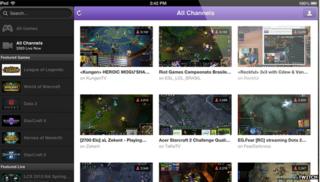 Gaming fans have reacted with anger after divorce led to a popular Twitch gaming channel changing hands.
Ara_Gaming had been on hiatus for months while its owner, known to followers as Sarah, resolved personal issues including divorcing her husband.
Sarah is believed to have offered ownership of the channel, and its related social media accounts, to her husband in the divorce settlement.
Some of the channel's 30,000 fans sent him insults and even death threats.
Support system
The row blew up on Sunday as the Ara_Gaming channel returned - but with a new host called Crystal. Followers bombarded the host with questions on the chat channel about what had happened to Sarah.
The volume of comments led Sarah's former husband to clarify what had happened, saying that the company that handled Ara_Gaming and its associated social media account had been "offered" to him in the divorce.
He said he had been "reluctant" to take on the channel and its followers because he was not a gamer and had little experience of curating a popular social media identity. The company behind Ara_Gaming is now owned by Crystal, the new host, who is related to Sarah's husband.
He also took to Twitter to explain the situation and asked people to be civil with their enquiries.
"Ara_Gaming will not be 'given back' b/c it was not taken. It was offered. So if the death threats could please stop that would be great," wrote the new owner.
Fans reacted poorly to the news on Twitter with many using the #aragate hashtag to publicise what had happened. Many advised those who had followed Ara_Gaming to cancel their subscription, stop donating and to unfollow the channel.
Comments supporting Sarah and asking her to start up a new channel were posted by fans on Ara_Gaming's YouTube, Twitter and Steam pages.
Sarah has registered a new Twitter account under the name @thesneezle.
Meanwhile, a Twitter user called IronCore45 who used to help Sarah moderate the Ara_Gaming channel, posted a message thanking fans for their support.
He added: "I truly hope none of you have to experience such a thing as having your private life exposed to the internet for hateful speculation."