Click: Watch a full show in 360 degrees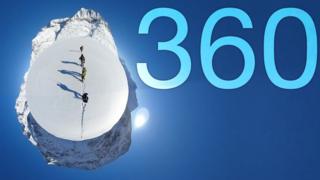 In a world first, BBC TV's technology show Click has produced a fully 360-degree edition.
The programme contains never-before-broadcast views of Cern's Large Hadron Collider, an immersive video games review and a conjuring trick in which the magician could not hide anything from sight.
The interactive version can be experienced via virtual-reality headsets.
In 2011, the BBC children's favourite Blue Peter made history with a studio show broadcast in 360-degrees, but Click will be the first programme to produce an entire episode in 360, including all the features and reports.