Uber discloses rape data after leak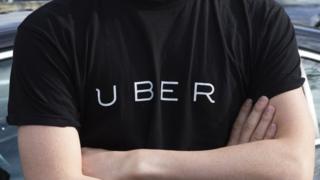 Uber has revealed it received five rape allegations between December 2012 and August 2015.
The firm said the figure accounted for 0.0000009% of more than 500 million Uber journeys made during that time.
The information was released after Buzzfeed obtained screenshots suggesting more than 5,000 messages concerning rape had been logged by Uber customer support.
But Uber said the numbers were "highly misleading".
'Overstated'
Screenshots published by Buzzfeed showed a support centre agent searching Uber's customer correspondence database for terms such as "sexually assaulted" and "rape".
There were more than 5,800 search results for "rape" and 6,100 for "sexual assault", with some emails showing descriptions such as "Driver sexually assaulted me".
In a blog post, Uber said the numbers were overstated because:
Passengers often misspelled "rate" as "rape", and some wrote messages such as "you raped my wallet"
Search results included complaints from people who had not actually travelled in an Uber
The results included questions about sexual assault from customers who had seen the topic raised in news reports
The ride-sharing company said an analysis of its search results showed five conversations that alleged rape had occurred during December 2012 to August 2015.
170 messages included a "legitimate claim of sexual assault".
"Resolve without escalating"
But Uber admitted: "When serious incidents occur, people often report them directly to law enforcement. Therefore, those incidents may not be reflected in the numbers."
Buzzfeed asked Uber to provide with the data for independent analysis, but Uber responded that this would be a "serious breach of our riders' and drivers' privacy".
Details of Uber's instructions for support centre staff were also among the leaked screenshots.
Instructions for dealing with drivers reported for drinking or taking drugs state: "if rider does not want to escalate with [law enforcement] or media, follow strike system, issue warning, and resolve without escalating".
Writing on Medium, Uber said: "We're the first to admit that we haven't always gotten things right. But we are working hard to ensure passengers everywhere can get a safe, reliable ride.
"Sadly, no means of transportation is 100 percent safe today. Accidents and incidents do happen.
"It's why we are working to build an exceptional customer support team that can handle problems when they occur, including working with law enforcement."
Update:
Uber originally said that names and email addresses containing "rape", such as Draper, would have been included in the search results, leading to the headline figure being overstated. The firm has since acknowledged this was inaccurate.
It now says that names would only have been counted if they began with the four letters, eg the surname Rapeller.