York - the fibre frontier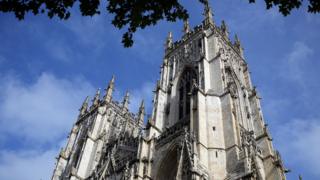 In Jessica North's house in York, I'm trying out her new broadband connection.
Its arrival was signalled by a fibre optic cable poked through a hole in the front room wall by a TalkTalk engineer just a few minutes ago. Now the needle on the speed test I'm running on my phone swings further and further to the right and gives me a spectacular reading - 319 Mbps download and an even more astounding upload speed of 243Mbps.
This kind of speed has been made possible by an experiment in York which could spark a change in direction for the UK's broadband strategy. That's certainly the ambition of TalkTalk and Sky, the two firms working with a fibre specialist Cityfibre to roll out a new fast broadband network, designed to reach 20,000 homes in the city.
Anywhere outside York, both firms are dependent for their broadband infrastructure on BT's Openreach division - which they've attacked for delivering a poor service and tying Britain into the wrong strategy. They have lobbied hard to persuade Ofcom that Openreach should be split off from BT, and we will hear the regulator's thinking on that next Thursday.
The York network is designed to demonstrate that fibre to the home - deemed too expensive an option by BT for most of the country - can be rolled out quickly and economically. The Cityfibre team are using a technique called micro-trenching to lay the cable. We watched as they cut a narrow channel down a pavement in the Huntington area of York, moving much faster than would be possible for a conventional cabling operation.
As for the customer, TalkTalk is offering a price of £21.70 a month including line rental for its ultrafast broadband, no more than its standard connection which it buys at a wholesale price from BT Openreach. Jessica North, a young mother with two small children, said the speed was attractive as the family used a number of devices and her husband did a lot of online gaming. But it was the price that was decisive in persuading the family to move from their existing supplier Virgin Media.
Now BT is going down a different cheaper route to the superfast broadband future, relying mainly on Fibre to the Cabinet (FTTC) where dozens, perhaps hundreds of homes are connected via a copper cable to a fibre hub in a green box by the side of the road. With York's Gigabit City trial only expected to reach about a quarter of homes, most will still be dependent on the FTTC option which offers speeds of up to 78Mbps.
I was surprised to find, however, that BT Openreach has made its own FTTP option available in York - and in the same areas that TalkTalk and Sky are building their fibre network. But that is sold by its arms-length customer BT Retail at a hefty price - about £60 per month including line rental, so I can't imagine people like Jessica North will be snapping it up.
What then can we learn from what's happening in York about the best way forward for our broadband future? At last there is some competition for BT in providing a fast broadband network, which must be good news. But while that £21.70 per month for a raging fast connection sounds great - is it really an economic price for TalkTalk and will it be available elsewhere?
I've seen a suggestion from their joint venture partner Sky that it costs £800 to hook each home up to an FTTP (Fibre to the Premises) service, so it may be a challenge to make profits in York, let alone in more rural areas. And while BT's record in using government money to roll out superfast broadband to rural Britain has been criticised, rivals like TalkTalk and Sky aren't exactly rushing to do the job.
And here's the big question - would the separation of Openreach from BT make any difference to investment in broadband in York or elsewhere? TalkTalk, Sky and some competition experts believe an independent Openreach would have more focus on its customers, and would hence make bigger and better investment decisions.
BT counters that the whole tortuous process of dividing up its business would impede progress at a crucial time in the rollout of fast broadband. It points to other countries - New Zealand, Singapore and Australia - which have tried the same kind of separation as is being proposed here and claims the results in terms of broadband rollout have been either unsuccessful or extremely expensive.
Ofcom's chief executive Sharon White has been weighing up all these rival claims, and we should find out on Thursday what she thinks of them. Whatever the results of her Strategic Review of Digital Communications, we can expect the arguments about Britain's broadband strategy to continue for years.