Hoverboards: Amazon offers full refunds in safety backlash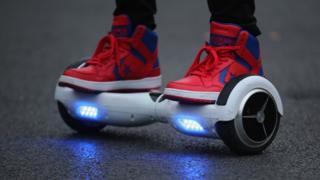 A US government body has said online retailer Amazon will offer full refunds to customers who bought hoverboards, after safety problems with the devices.
Refunds will be available immediately, according to the Consumer Product Safety Commission (CPSC).
Electrical faults in hoverboards have been responsible for a number of fires across the United States.
The CPSC is currently investigating 13 hoverboard manufacturers over safety concerns.
Contrary to the name, hoverboards do not float but provide a wheeled form of self-balancing transport.
Previously, Amazon had stopped selling models in response to questions over their safety.
Fire hazards
"I expect other retailers and manufacturers of hoverboards to take action and offer a full refund now to their customers as well," said CPSC chairman Elliot F Kaye in a statement.
"I also expect responsible large-volume online sellers in particular to stop selling these products until we have more certainty regarding their safety.
A charging hoverboard was recently cited as the cause of a fire that destroyed a family home in Melbourne, Australia.
In the UK in December, National Trading Standards said that 88% of hoverboards examined by the body since October 2015 could explode or catch fire.
"The main problem that all of these other hoverboards, that you've been seeing, have is that they use very poor quality components in an effort to bring their costs down," Peter Treadway, chief executive of skateboard firm Blink, told the BBC during an interview at CES in January.
Injured riders
Besides fire hazards, the CPSC chairman also cited increasing reports of serious injuries to hoverboard users in falls associated with the devices.
A London teenager, aged 15, who was riding a hoverboard died in December after he was hit by a bus.
The CPSC recommends that hoverboard users keep a working fire extinguisher nearby when charging or using the devices and that they be charged only in open areas away from flammable materials.
Its investigation into a range of hoverboard makes has not yet resulted in any specific determinations about their safety, the CPSC said.