#BBCdown: The memes and jokes circulating as BBC websites go offline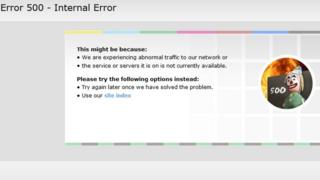 The entire BBC website experienced major technical issues on Thursday morning. Users said they were unable to access BBC websites including BBC News and iPlayer catch-up services.
Sources within the BBC said the sites were offline thanks to what is known as a "distributed denial of service" attack.
As our IT team worked hard to fix these issues, the downtime sparked memes, nostalgia and jokes on Twitter.
#BBCDown was the top UK trend on Thursday morning, competing with #HappyNewYear.
The trend was driven by users who tweeted to say they are unable to watch or listen to their favourite BBC programmes or check out latest news and sports scores.
Thankfully the internet came to the rescue with a joke or two...
"You never had this problem with Ceefax"
Alex Watson said: "You never had this problem with Ceefax #BBCDown".
Tim O'Brien tweeted: "Wonder if they've tried switching it all off and on again #bbcdown".
"We're doomed!"
Meanwhile at...
Some Twitter users created memes to imagine what might be happening at the main BBC servers...
Memes featuring scenes from The Simpsons and The IT Crowd were also popular on Twitter.
A cheeky plug....
Al Jazeera tweeted their concern but we can't help but think that they're using the downtime to attract new people to their website! However, we appreciate the concern!
And finally...
It has now emerged that a web attack technique known as a "distributed denial of service" was causing the patchy response.
This aims to knock a site offline by swamping it with more traffic than it can handle.
Normal service has now resumed...