Cilla Black tops UK Google Search in 2015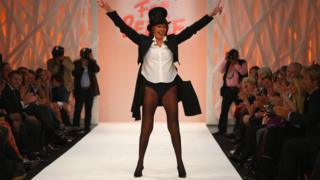 Cilla Black was the UK's top-trending search term on Google in 2015, according to the tech firm's annual review of its users' activity.
The singer and TV star died in August aged 72 following a stroke.
Lady Colin Campbell was the second most popular term in the UK after the socialite appeared on ITV's I'm a Celebrity... Get Me Out of Here.
For the world as a whole, basketball player Lamar Odom topped the list followed by Charlie Hebdo.
Mr Odom, the estranged husband of Khloe Kardashian, rose to prominence in October after he fell unconscious during a visit to a brothel, resulting in him being taken to hospital. He later emerged from his coma.
Charlie Hebdo is the French satirical magazine attacked by gunmen in January.
Google's list of top-trending terms refers to queries that experienced the highest level of traffic over a sustained period of time during 2015 and were not nearly as popular the previous year.
The firm publishes the details as an alternative to simply listing the most requested phrases - such as "Facebook", "internet banking" and "weather forecast".
Belly fat
It does not disclose the number of searches involved.
The top 10 terms searched for by UK-based users were:
Cilla Black
Lady Colin Campbell
Rugby World Cup - which took place between September and October
Jeremy Clarkson - who was dropped from Top Gear in March after punching one of the show's producers
Paris - in relation to November's terror attacks
iPhone 6S - which was released in November
Grand National 2015 - the horse race that occurred in April
Jurassic World - the hugely successful dinosaur movie sequel
Election results - following the UK general election in May
Charlie Hebdo
The search firm also provides topic-specific breakdowns, which reveal:
Labour's Jeremy Corbyn was the most searched-for politician
"How to lose belly fat" was the most queried "how to" phrase
"Who is Lucy the Australopithecus" was the most submitted "who is" request, relating to the three-million-year-old fossil believed to be an ancient ancestor of the human race
Some of the terms that appear within the global top 10 might still be unfamiliar to many people.
For example, Ronda Rousey was the eighth most popular search. The 28-year-old American is a martial arts star in the Ultimate Fighting Championships who suffered her first defeat in November.
And Agar.io came in third place. It refers to a popular video game in which players control a blob that has to consume other blobs to survive.