Zano - the blame game continues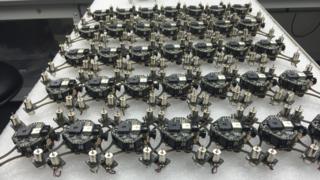 The fallout from the collapse of Europe's biggest Kickstarter project continues. The crowdfunding platform has been heavily criticised by Zano backers, who believe they were duped into spending £2.3m on the mini-drone. Now Kickstarter has responded to their complaints.
In a letter to all backers it says: "Like you, we're extremely frustrated by what's happened with this project." It goes on to explain that Kickstarter emailed Zano's creators a couple of weeks before the announcement that the project had gone bust to encourage them to be more communicative with the backers, but received only "a cursory response.".
Now Kickstarter says it has contacted the Zano team again to seek an "open and transparent account" of what went wrong. If this is not forthcoming, the crowdfunding platform says it will mount its own inquiry into the project. Failure by the drone's creators to meet their obligations, it warns, will lay them open to legal action by backers. What's more, "the creators of Zano will not be allowed to launch another project on Kickstarter".
It is safe to say that while some backers have moved on, accepting that Kickstarter projects can go wrong, many have been unimpressed by this letter. "I feel they still cannot waive their responsibility this easy. They are a part of the deal and make money from it," writes one on a Facebook forum. "Why won't they refund their fee to us?" writes another " or... use that money to hire legal counsel to represent us collectively?"
Plenty of questions remain to be answered about the Zano debacle, but uppermost in backers' minds will be the issue of getting their money back. People who pre-ordered a drone after the Kickstarter campaign are quite well-placed if they paid by credit card. Under the UK's Consumer Credit Act they should be able to get a refund if the drone was not delivered - or was faulty, as appears to have been the case.
The situation for the people who originally pledged their cash to back the project is a lot less clear. The card companies will want to examine carefully the nature of the contract between the backers, Zano and Kickstarter, before offering any refunds - and the trade body UK Cards told me that it could not comment on the likely outcome.
The other question is, of course, what went wrong? I have spoken to one backer who also had some business dealings with Torquing Group, the firm behind Zano. He had a plan to use several of the mini-drones together for aerial tracking and filming, taking advantage of their "swarming" capability which was supposed to be a key feature but never worked.
He tells me that Torquing had told him it had also been in discussions with a UK insurance company that wanted to use the drones to inspect damaged roofs, apparently a major issue of dispute in home insurance claims. It was clear that there could have been plenty of customers for the Zano - if it had worked.
My contact disagrees with those who feel the company had deceived them from the start. He had been told that the Torquing Group had had half a dozen prototypes built - at a cost of as much as £30,000 each. The problem was that the small team then forged ahead with mass production, only to find that they could not build a stable device that would retail at around £200.
"I just think they made poor decisions," he says. "They should have got some experts in." But he believes that where they really went wrong was not being frank with backers at an early stage: "They should have said 'We can't do this' and returned what was left of the money."
But this man and other backers still believe that Kickstarter now needs to change, paying far more careful attention to the initial claims made by technology hardware projects. It seems the crowdfunding platform has now woken up to the threat posed to its reputation by failures like Zano. It is keen to point the finger at the creators - but the backers think there is plenty of blame to go round, and Kickstarter will remain in their sights.
UPDATE - 15:30 GMT
A letter from the liquidators of the Torquing Group has shed new light on the status of Zano backers. It informs them that the money they pledged is neither "debts owed by the company nor are they equity investments.".
That means they are not creditors, and cannot attend the creditors' meeting on Friday - they are told not to "waste their time and money by travelling here on 4th December 2015".
Both the content and the tone of the letter have caused extreme anger among the backers. It also raises further questions about whether Kickstarter needs to be clearer in its warnings about the risks involved in pledging money to a project.