Kiosk that turns foreign coins into pounds opens in London
By Jane Wakefield
Technology reporter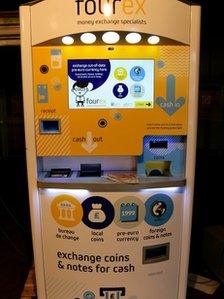 A kiosk that can sort unwanted foreign currency and exchange it for pounds, dollars or euros has been launched in London.
The first machine will be installed at King's Cross Tube station on 26 October, with five more to follow this year in other stations.
The company behind it, Fourex, uses image recognition technology that can sort 10 coins per second.
It recently won Virgin Media's Pitch to Rich competition.
"The idea was born out of frustration," co-founder Jeff Paterson told the BBC. "I had a whole lot of money lying in a drawer that I could do nothing with as the value of exchanging it outweighed the value of the money."
He said the machine was the first of its kind.
"There is nothing else out there, and this was a solution to a problem that no-one else had a solution to," he said.
The machine accepts unsorted coins and notes from more than 150 currencies - including those out of circulation - and offers "competitive exchange rates", which vary depending on the currency.
Mr Paterson is hoping people will bring "their jarfuls of coins" to exchange.
"When the euro took over, there were billions of old currencies left over," he said.
"It is estimated that there are £1.7bn worth of pesetas lying in peoples' drawers.
"To exchange, you'd have to make a trip to the Bank of Spain, and you are not going to do that for £20."
The self-service currency exchange machine also works as a bureau de change, offering foreign visitors to London the chance to change money into pounds.
A similar business - Coinstar - has machines in supermarkets that sort loose change into cash or vouchers. It is estimated to make about $3.2bn every year.
According to Fourex's research, there could be up to £3bn of unused foreign currency in UK homes.
The technology took two years to develop, and a deal with Transport for London will see the kiosks rolled out in various Tube stations.
Another machine will be installed at Blackfriars in November, and the plan is to have 400 around London by the end of 2017.
In June, Fourex won Virgin Media's Pitch to Rich competition, beating 2,500 other companies to the prize.
It raised most of its investment via crowdfunding website Crowdcube and reached 244% of its £275,000 target in two weeks.
Bob Atkinson, foreign exchange expert with TravelSupermarket, said that it sounded like a good idea.
"When people get back from holiday with spare coins and take them back to banks or exchange bureaus, people do not want coin so the only option to them is to pass them on to someone else or put them in a drawer in the hope that they will be useful in the future," he said.
"My only caveat will be what the exchange rates are - we will have to wait and see whether it is a good deal for consumers," he said.
Airlines and airports often ask customers to put unwanted foreign coins in charity boxes, and users of Fourex will also be given the option to donate part of their cash to charity.
Related Internet Links
The BBC is not responsible for the content of external sites.