Tokyo bans drones in parks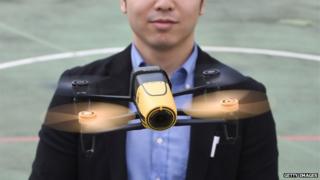 Tokyo has banned drones in municipal parks after one was discovered on the roof of the prime minister's residence, according to reports.
Japanese media outlets have reported that the devices are no longer allowed in any of the 81 public parks in Japan's capital city.
According to the reports, offenders could be fined £265.
The move comes after a drone carrying radioactive material landed on the roof of the prime ministerial residence.
A man was arrested over the incident in late April after handing himself in, Tokyo police said. Yasuo Yamamoto, 40, was protesting over the Japanese government's nuclear energy policy.
According to The Japan News, Tokyo's metropolitan government said the drones posed a danger to children.
The site reports that officials said they had no intention of imposing the penalty, but that they asked people to comply.