Registered to vote? Computer says no…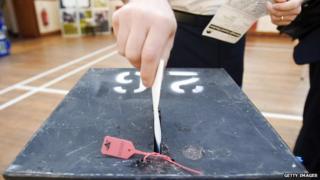 This May, technology could have quite an impact on the way the general election is conducted.
No, we are not about to try online voting - that's a long way off - but millions of people will have registered to vote by going online. The government's revamped website gov.uk now allows you to register. But could mixed messages and a lack of joined up thinking between central and local government cause confusion?
It certainly has in my household. The other day a letter arrived from my local council with a simple message:
"The way you register to vote has changed. It only takes a few minutes, and will mean you can vote at elections." It continued with this warning: "You need to provide this information by 20th March 2015. If you don't, you could be fined £80." Now, this was quite a shock. I've been living at the same address for more than 20 years and was sure I was already on the electoral register.
Nevertheless, spurred on by that threat of a fine, I followed the instructions on the letter to go to the site and register. It's a commendably clear and simple process. You just need your date of birth, your National Insurance number, your permanent address, and are asked to confirm whether you have moved in the last 12 months.
But having completed the form, I was then presented with a message saying: "Your name is not yet on the electoral register." It went on: "If your application is successful, your name will appear on the next update to the electoral register."
This left me with the distinct impression that I was not registered to vote and that it was a jolly good thing I had taken action. Then I asked some other people to go to gov.uk and try the process themselves - they all reported back with the same experience. "Thank you," tweeted one person. "I was certain I'm on, went to check, turns out I'm not, despite living same address 18 years."
What is going on? Had I uncovered a mass deregistration of voters? I contacted the Cabinet Office which is in charge of the gov.uk website. A spokesman explained that the site was designed to allow people to register more easily, not to tell them whether or not they were already registered. Indeed, that would not be possible because there is no central electoral register - all the data is held by local authorities.
But he agreed that the wording on gov.uk was confusing and said that "following user feedback", the sentence, "Your name is not yet on the electoral register," had now been replaced with, "Your application has been received and is being processed." That still left me unclear whether or not I was on the register and there is no way of checking online.
So I rang my local council and found a very helpful man. He looked at their records and told me that yes, I was already on the electoral register as I'd thought. He explained that the records were being tidied up as part of the move from household registration to individuals, and some confusion over my exact name had led to that letter being sent out.
The Cabinet Office told me that about 10% of voters are receiving this kind of letter, and says this is a much lower figure than had been expected, given the massive task of cleaning up the electoral register and making sure there are no duplicate or inaccurate records.
But that means millions may be left confused about whether or not they are allowed to vote. Giving people the option to register online seems like a very good idea. If it produces a more accurate and comprehensive register of those allowed to vote, all well and good. However, creating confusion in the run up to a general election does not seem so smart.