Campaigners call to curb GCHQ spying powers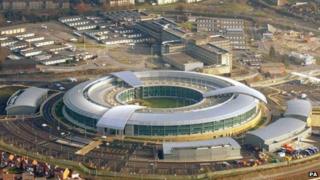 A civil liberty group has issued a call to rein in GCHQ after legal action unearthed documents detailing its ability to spy on people.
The documents were filed by the UK government in response to court cases launched by Privacy International.
The digital rights group said the documents revealed that GCHQ can hack "anyone, anywhere in the world".
GCHQ rejected the accusation and said its work was carried out under "strict legal controls".
Network explorer
Privacy International (PI) said the documents revealed that GCHQ's authorisation to hack the communications of intelligence targets such as criminals and terrorists can be applied to anyone - even if they are not suspected of being a criminal or a threat to national security.
Last year, Privacy International launched legal action against the UK government and GCHQ to challenge the widespread surveillance the agency was carrying out - as detailed in papers leaked by whistleblower Edward Snowden.
The papers filed to the court in defence of GCHQ reveal the extent of the "broad hacking powers" the agency has been given, said PI. The documents detail the code under which GCHQ carries out what it calls "Computer Network Exploration" (CNE).
"The government has been deep in the hacking business for nearly a decade, yet they have never once been held accountable for their actions," said Eric King, director of PI. "They have granted themselves incredible powers to break into the devices we hold near and dear, the phones and computers that are so integral to our lives."
Mr King said the "suspicionless" hacking had to end, and the intelligence agencies must be brought under the rule of law.
Jan Girlich, spokesperson for the Chaos Computer Club which joined PI in launching legal action, said GCHQ had been given "massive power" over anyone it wished to observe.
"Mass surveillance and hacking is still wrong and must be stopped," said Mr Girlich.
A GCHQ spokesperson - responding to the claims - said PI's accusation was incorrect.
"As will be seen from the Government's Open Response, assertions and suggestions that GCHQ can carry out CNE operations in an unregulated way are simply untrue.
"Strict legal controls, safeguards and requirements apply to this activity, which can only be carried out for the statutory purposes eg national security," they added.