HTC reveals virtual reality headset with Valve at MWC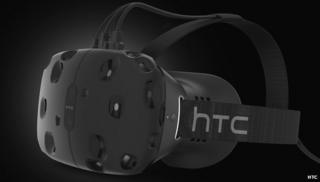 HTC is to release a virtual reality headset as part of a tie-up with Valve, a leading PC video games publisher.
The HTC Vive will be paired with wireless controllers and tracking technology to let wearers explore computer-generated environments by walking round their rooms.
A test version of the kit will go on sale to developers shortly, followed by a public edition later this year.
It will compete with Facebook's Oculus Rift and Sony's Morpheus VR headsets.
The machines let wearers view computer-generated 3D environments to give them a sense of being there.
The announcement marks a change of strategy for HTC, which has focused on smartphones.
At a press conference in Barcelona on the eve of the Mobile World Congress trade show, the Taiwanese firm also unveiled a new flagship handset - the HTC One M9 - and a GPS-enabled fitness tracker
Virtual gaming
Only limited details of the Vive have been released ahead of a planned presentation by Valve at the Game Developers Conference in San Francisco on Wednesday.
However, HTC has said that the headset features can display video at 90 frames per second (fps) - an important consideration as many developers believe a rate lower than 60fps can cause nausea.
It includes two 1,200 by 1,080 pixel screens to provide high definition - but not 4K - quality graphics, and allows existing sets of headphones to be plugged into its side.
HTC said that more than 70 sensors were built in to the machine, including a gyroscope, an accelerometer and a laser position sensor.
It added that the machine also supported a facility developed by Valve that allows users to explore a virtual space and the objects within it from different angles - by moving about in real life within a 15ft by 15ft (4.6m squared) space. To do this, owners will also need to buy a Steam VR base station.
"It is rare that a company has an opportunity to forever transform the ways in which people interact with the world and communicate with each other," said Peter Chou, HTC's chief executive.
Although gamers are set to be the most likely early adopters, HTC added that the device could also be used for shopping, visiting other parts of the world and meeting friends in virtual reality.
It added that Google, the US TV network HBO and movie studio Lionsgate were already working on content for the machine.
Half Life VR?
While HTC's handsets have been well reviewed in the past, its relatively small marketing budget has played to rival Samsung's favour.
Samsung already sells virtual reality kit of its own, thanks to an alliance with US firm Oculus VR. However, the Gear VR relies on the user also owning either a Samsung Galaxy Note or a Galaxy S6 handset, and as yet has little content available.
US-based Valve runs Steam - the hugely popular online marketplace for PC videogames - as well as developing renowned games of its own, including Half Life, Portal and Dota 2.
A link-up with Valve therefore offers HTC a way to promote its machine without having to fund all the associated costs.
But one expert suggested the relationship could be a double-edged sword.
"Valve has a huge amount to offer a consumer electronics company through its giant user-base and the content distribution platform it runs," said Piers Harding-Rolls from the IHS Technology consultancy.
"But on the flipside it must make sense commercially, and it is an issue if the hardware company doesn't have a share of the content revenues."
Phone and fitness
One company watcher was less positive about the firm's new Android-powered handset.
The look of the all-metal unibody One M9 has hardly changed from that of its predecessor. However, its main camera has been upgraded to a 20 megapixel component that can shoot video in 4K ultra high definition (UHD) quality.
HTC's Sense user interface has also been updated to provide location-specific news and suggestions on the phone's home screen. And the handset can now simulate a surround sound experience from its front-facing speakers.
"These are just small incremental changes," commented Francisco Jeronimo, from the research firm IDC.
"HTC needs to do a lot more to retain market share."
The company shipped 21.3 million smartphones in 2014, giving it a 1.6% share of the market, according to IDC.
That was down from a 4.4% share and 31.6 million shipments two years earlier.
It did, however, manage to return to profit last year after cutting costs.
The firm also unveiled a wristband, which is compatible with both Android and iOS handsets.
The HTC Grip fitness tracker contains a built-in GPS chip to track the user's location, helping it measure their pace and calorie burn during exercise.
It is waterproof and features a 1.8in (4.6cm) OLED display that can show incoming calls and notifications to a linked phone, but lacks a heart rate monitor.
"The problem is that there are lots of other wristbands out there at a cheaper price," said Mr Jeronimo.
"So, unless HTC bundles it for free when someone buys the M9 I don't see how it will succeed."