Kickstarter - now just a store?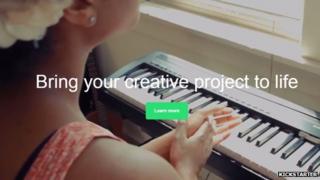 This afternoon I've been staring, mesmerised, at a Kickstarter page.
It is a campaign to raise $500,000 to fund a new smart watch - and just half an hour after it was launched it had raced through its target. The last time I looked, it was racing towards $3m in 90 minutes.
Great, you might think, a smart new start-up has found that it can harness the power of the crowd to fund technology that venture capitalists might be loathe to back.
But actually this is Pebble, a business which was a scrappy upstart a couple of years ago but has since raised at least $15m (£10m) from investors.
Pebble was the original Kickstarter success story.
Its young founders turned to the crowdfunding platform to fund their original smartwatch in 2012, eventually raising $10m after setting a target of $100,000.
The company helped promote the whole idea of testing the appeal of new technology by showing a prototype to an online audience to see how many snapped it up.
It also changed the direction of an organisation whose original aim was to promote artistic enterprises.
Kickstarter still bills itself as new way to fund creative projects, "everything from films, games, and music to art, design, and technology".
But since Pebble came along, it's the technology projects that have grabbed the limelight.
What it isn't, according to a blogpost from Kickstarter in 2012, is a store.
It shouldn't be simply a marketplace for finished products but "a new way for creators and audiences to work together to make things".
But the Pebble Time doesn't look like a work in progress, to be refined through interaction with its backers.
Indeed, now that it has hit its target, backers are told that their watches should be delivered in May. Not much time for any new thinking about the product.
Now, of course, it's up to Kickstarter's founders to decide where they want to take it.
But if it is turning into just another online shop window for established businesses, that may mean less money for risky new ventures and less creativity.
I put some of these points to Kickstarter, and the organisation has come back with a statement insisting that technology has always been part of its creative brief.
"We don't see a smartwatch as being any less of a creative endeavour than a dance performance, and we love being a place where people can embrace innovation," it said.
Kickstarter says it has always been about more than raising funds -"it's also about building that base of people who want to follow whatever it is you do next. That's something that just doesn't happen in a store."
It is in that context that it sees Pebble's latest smartwatch as completely in tune with its mission to involve a community in the creation and distribution of new products.
But here's a question - what if an Apple or a Samsung or a Google decided to launch a new product on the crowdfunding site? Those companies have people who want to follow whatever they do next too - but would they fit into the Kickstarter template?