Rapidshare to close following long decline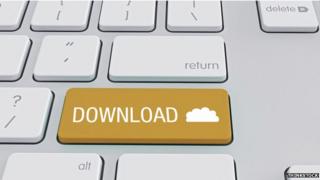 Rapidshare, formerly one of the most popular file-sharing sites, will close in March, it has been announced.
The decision comes after a period of decline for the site, which sacked three-quarters of its staff in 2013.
It adopted anti-piracy measures following criticism over allegations around copyright infringement and later scrapped its free service.
According to one expert, users had been abandoning the site ever since, meaning it was no longer a viable business.
The Switzerland-based site has warned users to secure their data and said that all accounts would be deleted on 31 March this year.
It was once ranked in the top three filesharing sites, along with Megavideo.com and Megaupload.com, which were estimated to have generated more than 21 billion visits between them.
"It's clear that Rapidshare lost the vast majority of its users in recent years, after it implemented a series of anti-piracy measures. This visitor exodus has led to a sharp decline in revenues," said the the editor of the file-sharing news site TorrentFreak, Ernesto van der Sar.
"The announced shutdown suggests that it was no longer viable for Rapidshare to offer its services in the present form."
Legal battles
Rapidshare, which launched in 2002, is one of many similar sites to have faced legal difficulties in recent years. However, unlike some others, it won at least a partial victory in court.
A German court ruled in 2012 that it operated legally in the country and said that it did not have to monitor files uploaded by its users. But it was told to monitor other sites linking to copyrighted files on its platform and to ensure that those files became inaccessible.
The ruling followed a series of measures by the site to proactively tackle online piracy.
Within months, however, its troubles began to surface.
In November 2012, it introduced a limit on how much users could share. And, less than two years later, it did away with its free version altogether. That followed the firing in May 2013 of 45 of its 60 employees as business floundered.
Rapidshare did not respond to a request for comment.