Alleged 'swatter' prankster arrested in US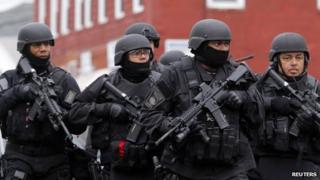 An American man alleged to have been involved in several "swatting" incidents has been arrested in the US.
"Swatting" involves pranksters phoning police with fake information about crimes that require the presence of armed Swat teams.
Brandon Wilson was arrested for his suspected involvement in an incident in July that led to armed officers laying siege to a house in Illinois.
If found guilty, Mr Wilson could face up to five years in jail.
The arrest took place on the same day that a popular online gamer Joshua Peters was swatted while fans watched him playing via his Twitch TV stream.
Swatting has become a significant problem in the US with many pranksters and trolls using it as a tactic against people they dislike or as a means of revenge. Cybercriminals have also used it against security researchers who have exposed their identities and how they work.
The incident which led to Mr Wilson being arrested involved police responding to a fake call about a murder at a home in an Illinois town called Naperville.
Mr Wilson, who lives in Las Vegas, is also suspected of involvement in several other swatting incidents according to a local US report about his arrest. Mr Wilson, who uses the gaming handle "famed god", has been charged with computer tampering, intimidation, fraud and ID theft.
Illinois state attorney James Glasgow said swatting was a "dangerous prank" and added that he was drafting laws that would make it a crime in the state. The law would require convicted swatters to pay the costs of calling out emergency response teams.