Thailand mulls jail term for unlicensed drone pilots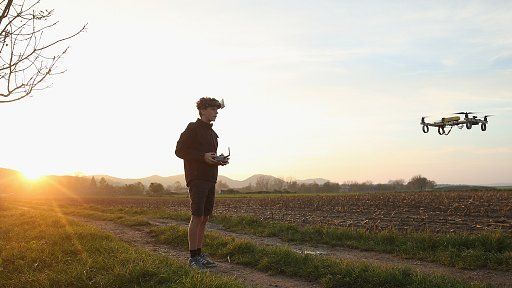 The Transport Ministry in Thailand is seeking to ban all unlicensed drone flights, including flights by individuals, local media reports.
Those caught flying drones unauthorised could face a year in prison and a fine of 40,000 baht (£813; $1229), Transport Minister Prajin Juntong said.
Attaching cameras to drones would also be prohibited except for business reasons, under the proposals.
The plans are being drawn up by the country's Civil Aviation Department.
They would be sent to the cabinet for approval and could come into force as early as next month, said Mr Juntong, who is also commander-in-chief of the country's air force.
Drones should also only be airborne for a maximum of one hour (although current battery life limits most flights to about 20 minutes) and be within 15-150m (50-500ft) of the ground, the proposals state.
This is to limit their potential to interfere with commercial air traffic and to ensure the noise they make does not annoy the public.
In addition, the rules will specify how big and heavy drones can be.
Photographers, film-makers and journalists will be able to use drones fitted with cameras, but others will not.
The Ministry of Transport will oversee and approve all applications to use drones, by both businesses and individuals.
Thailand is one of many nations seeking to limit what drone owners can do with their craft.
The US Federal Aviation Authority has issued guidelines on where and how they can be flown and put limits on how they can be used commercially.
The agency is also drawing up more detailed proposals on how they can be used commercially.
Related Internet Links
The BBC is not responsible for the content of external sites.