eBay auction for rare video game nears $100,000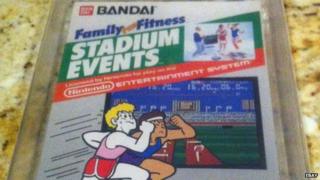 A rare video game has attracted a bid of $99,600 (£65,600) in an eBay auction.
The auction for the "factory sealed" 1987 Nintendo Entertainment System game called Stadium Events is due to end on Friday.
The seller claims its authenticity has been verified by a video game authority in the USA.
One expert said that, while the mooted price is surprising, there is a growing market for video game nostalgia.
"You don't see games going for that sort of price, it is very unusual - it would be a fanboy's experience, someone who is very much into gaming heritage," said Nick Parker, an analyst and former Nintendo and Sony employee.
Mr Parker, who now works for IHS Technology, said: "In an hobby or market, there will be someone who is prepared to pay to own a piece of history."
He added that video games have recently entered a period in which their earliest versions could legitimately be considered historical.
And that, he said, meant that "as the years rolled by, it was right to assume that games would have that nostalgia attached to them".
The game, made by Bandai, was listed in 2008 as one of the 25 rarest for Nintendo by Computer and Video Games.
The site reported that, although it was relatively common in the PAL region - which includes most of Europe - "Stadium Events is one of the NES's most collectable games in America".
It added: "Although it's a terribly average fitness game, its value is due to Bandai printing a test run of the game that was sold in Woolworths stores for a very short period before Nintendo bought the rights.
"Rumours suggest there are only 10 complete copies on the market, and even unboxed Stadium Events carts can sell for £400."
'Rare'
According to the eBay seller, who was using the moniker menaceone: "It is well known and accepted in the gaming community that Stadium Events is the rarest licensed NES game available, thus making a sealed copy one of the most sought after and prized possessions for any video game collector".
There have been 32 bids since 5 January, starting at $5,000 and rising to nearly $100,000. Last year, another rare video game sold for more than $100,000. But there were later claims that the buyer pulled out.
The description states: "This listing is for a complete, excellent+/near mint, sealed copy of the game and one of few to ever be sent to the Video Game Authority in Roswell, Georgia for official grading, verification and authentication.
"Once the game arrived safely, the professionals at VGA gently cleaned the item, verified it, graded it and sealed it in a professional quality acrylic case where it will remain for the rest of its life."
Update 15 January 2015: Bidding has dropped to $32,252 after several offers were cancelled and the auction was restricted to pre-approved parties.