US trial of alleged Silk Road creator begins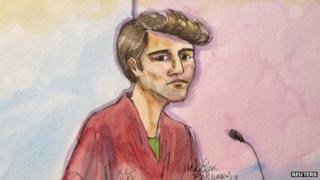 Prosecutors have said the alleged creator and operator of the Silk Road underground market operated like a traditional drug lord.
But lawyers for Ross Ulbricht, 30, said he was the "perfect fall guy" for the true owners of the website.
He is on trial in New York, accused of making millions from the site where drugs and other illegal commodities were bought and sold.
He has pleaded not guilty to the charges filed against him.
And Mr Ulbricht has never admitted that he ran the site.
Hidden site
The charges against Mr Ulbricht include accusations of operating a continuing criminal enterprise, conspiring to commit narcotics trafficking, money laundering and computer hacking.
Prosecutors claim the site generated over a million untraceable drug deals and earned Mr Ulbricht $18m (£11.9m) in bitcoin commissions under the online handle Dread Pirate Roberts.
He could face life in prison if found guilty on all charges.
---
At the scene - Nick Bryant, BBC News, New York
Listening to opening arguments, it was impossible not to think of the cinematic possibilities of the Silk Road story. Take the arrest of Ross Ulbricht, in a San Francisco public library in 2013 while he was allegedly chatting online with someone he thought was a colleague but was in fact an undercover federal agent.
With agents moving in fast to seize his computer, he was caught red-handed, the jury was told, with his fingers on the keyboard. Or consider the hit men he allegedly hired to kill those who posed a threat to the digital drugs empire - not that the prosecution claims anyone was actually murdered.
There is the intrigue of the dark and shadowy part of the internet which Silk Road made its home.
And there is the vast scale of the operation, which not only targeted a neighbourhood or city but the entire world, supposedly offering an online safe haven for drug dealers where they could conduct untraceable deals.
Then there are the boasts which the 30 year old Ulbricht allegedly made: "I am Silk Road."
---
Mr Ulbricht is also accused of soliciting murders to help silence people who knew about the site and his involvement with it. There is no evidence that any of the murders were carried out.
The New York trial will not deal with the murder plot charges but evidence relating to them will be presented in court.
The Silk Road shut down in October 2013 following raids by the FBI and other US law enforcement agencies.
The market operated from January 2011 to late 2013 during which time, the US alleges, tens of thousands of people used it to trade many different types of drugs, acquire forged documents and buy and sell hacking services.
The Silk Road operated as a "hidden service" on the Tor dark web network allowing people to use it anonymously. Anonymity was also aided by payments for drugs and other services being carried out in bitcoins.
More than 29,000 bitcoins seized during the 2013 raid were sold by US marshals in June this year for $17m (£11m). The FBI is believed to be in possession of a larger hoard of bitcoins seized from the site.
Mr Ulbricht's family and friends have set up a website to help defend him saying he is innocent of all charges and had nothing to do with the Silk Road and its operation.
A documentary called Deep Web has been made about the case, Mr Ulbricht's treatment and how the FBI tracked him down.
It is due to be shown later this year. Supporters say the case has serious implications for online freedom because of the way it has been handled.
Since the Silk Road shut down, other hidden sites have sprung up to take its place. One, called Silk Road 2.0, has been shut down due to raids by law enforcement agencies and the arrest of the man believed to be its operator.