Universal sues over prison mixtapes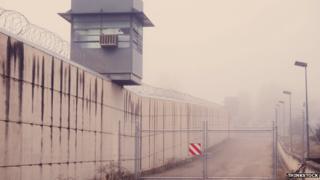 Music giant Universal is taking firms that create mixtapes for US prisoners to court over copyright issues.
Tapes featuring artists such as James Brown, Eminem, Marvin Gaye and Stevie Wonder are often sent to prisoners as part of a wider care package which includes toiletries and food.
The firms selling the packages say they help "eliminate contraband" in prisons.
Universal disagrees and is seeking damages of $150,000 (£99,371) per infringed song.
'Contraband personified'
The case, which was filed in California on Tuesday, was spotted first by the Hollywood Reporter.
It published details of the case, in which Universal accuses companies such as the Centric Group of stealing the work of its artists.
"Defendants boast on their website that their business 'was developed to eliminate contraband,' yet the infringing copies of plaintiffs' sound recordings and musical compositions, in which defendants unlawfully transact and from which they unjustly profit, are contraband personified," states the lawsuit.
It goes on to define what a mixtape is: "Mixtapes are a form of recorded music in which DJs combine (or mix) tracks, often recorded by different artists, on to a single CD, sometimes creating overlaps and fades between songs, and/or reflecting a common theme or mood.
"Such so-called 'mixtapes,' unless authorised by the copyright owner or owner of corresponding state law rights, are nothing more than collections of infringing, piratical compilations of copyrighted or otherwise legally protected sound recordings and copyrighted musical composition."
The lawsuit states that record companies and music publishers discovered earlier this year that mixtapes were being included in care packages for prisoners.
It added that defendants "sometimes sell their infringing products substantially below market value, in order to promote, market, and profit from their sales of other goods and services".
Centric Group has so far not commented on the case.