CES 2015: Is VR about to become a reality?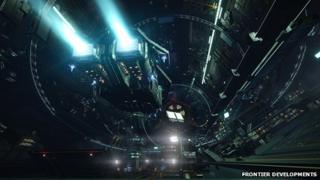 The Consumer Electronics Show (CES) in Las Vegas is a great place for spotting technologies bubbling under, poised for the breakout moment that will take them from being a sideshow to the main event.
In 2014 it was wearables, and in 2015 it might well be virtual reality (VR).
CES 2015 has seen a series of announcements and demonstrations that suggest the technology is nearing maturity and mass-market adoption.
Keynotes from Sony, Samsung and Intel all referenced VR and the way it might change how we consume some media.
Oculus Rift, the poster child for the consumer VR movement, demonstrated its latest update to its headset, called Crescent Bay, to press and its partners.
In addition, said attendees, the company's headsets were in use on lots of stands to demo other firms' technologies.
Razer, better known for its video gaming peripherals, used CES to announce its Open Source Virtual Reality initiative.
This is sharing the designs and development work Razer has done on VR with anyone that wants it to help it finalise and perfect a headset that anyone can use.
Separately, London-based 3D Head used the show to unveil its own VR headset.
Also in Vegas was Virtuix, which pairs an Oculus headset with a treadmill and harness to give people, usually gamers, as immersive an experience as is possible.
Its contraption is on sale now for $499 (£330).
Core gamers
Does this all mean that VR is now ready to go mainstream?
No, said Stuart Miles, founder of gadget news site Pocket-Lint.
"Last year lots of people were using Google's Glass to show what was possible, but they didn't know why they were using it," he said. "This year the same was true of VR."
The headsets might be visible on stage and stands, he said, but most were not exploiting its true potential.
"There's a real feeling that people want it to work but are not 100% sure why," said Mr Miles.
Analyst Piers Harding-Rolls, from consultancy IHS, was also sceptical about the immediate future of VR.
"It will stay relatively niche because it still has several technological hurdles to overcome," he said.
"A lot of people that have tested the current headsets, a good proportion of them have not enjoyed the experience.
"It can make them feel woozy and sick, and the manufacturers really have to overcome that," he said.
What also needed to be sorted out was how to control a person's actions when they were playing a game via a headset.
"There's no solution yet to controlling yourself in a game that does not remove you from the game and break that sense of immersion," he said.
There was no doubt, he added, that 2015 would be the year when a lot of development was done on the technology but user numbers would remain small and most of those would be gamers.
"The people that are willing to invest early on in the technology are those hard-core gamers," he said.
Increasing numbers of games, such as Elite Dangerous, were being optimised for use with a VR headset, he said.
Mr Harding-Rolls was also sceptical about using a VR headset to watch movies, not least because super high-definition screens were starting to appear in large numbers.
Film fun
For Mr Miles, from Pocket-Lint, some of the innovative uses for VR were happening away from the tech show.
Movie companies were starting to use headsets as a different way to promote some of their films, he said.
Fox was using a specially made sequence for its film Wild that put a person in the centre of a woodland scene with the film's star Reese Witherspoon.
Hi-tech firm Jaunt had created a similarly immersive experience for the third Hobbit movie, he said.
The Sundance film festival, which takes place in late January, is also expected to feature a whole series of movies and artworks that try to use VR to tell stories in a different way.
One "immersive experience" prepared for the festival puts VR users in the middle of a fight between two giant monsters.
Another is more subtle and revolves around the intimacy VR can bestow to give different viewpoints of the same incident and pose questions about how conflict and misunderstandings can arise.
Such experimentation was helping to solve one of the other obstacle VR must overcome, said Mr Miles.
"It has the same problem as 4K," he said. "There's just no content for it."
Despite this, CES was giving hints as to how VR might develop.
The 2015 show had seen the debut of several cameras that shoot panoramic video, he said. And using VR might be a great way to show the all round shots to friends and family.
For the moment, though, VR's future is still a little virtual.