CES 2015: Has the tech show lost its focus?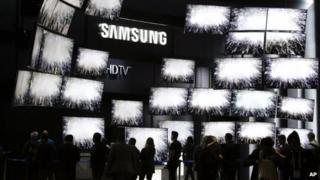 Another year and another CES. This time, like last time, it was bigger than ever. More people than ever walked around more stands than ever eyeing gadgets arrayed in a never-before-seen abundance.
And yet this year it did feel like there was one difference and it was a big one. There were no big launches of gadgets that defined a new category and that got everybody drooling.
By contrast, 2014 was all about wearables and CES 2013 was full of giant, ultra hi-def TVs.
Funding push
This year, the show seemed much less focused. Stuart Miles, founder of gadget news site Pocket-lint, who has attended CES for the last 15 years, said there was a good reason for the lack of razzmatazz from the biggest consumer electronics firms.
"They don't like being told when to launch," he said.
Debuting a consumer gadget these days is not a trivial matter and few firms are keen to do it for a show that falls after one the busiest buying seasons, said Mr Miles.
Instead, he said, those big electronics firms prefer to do the launches at their own event and use it as the start of their long marketing campaign for a particular gadget. By contrast to those smoothly engineered events, he said, CES is a chaotic cacophony over which it would be hard for any firm no matter its size, to make its gadget stand out.
The sheer size of the show - 160,000 attendees, 52,000 exhibitors and 20,000 product announcements - meant some big firms were really scaling back their presence as it was so hard to make the event work for them.
"Dell's press conference was in a bar in a hotel," said Mr Miles. "And it wasn't a very big bar, at that."
Contributing to this lack of focus was the real rise in start-ups that were being seen at the show in ever greater numbers, he said.
Crowdfunding sites had funnelled cash towards lots of garage entrepreneurs who were at the show to promote their invention and, hopefully, get the bigger companies taking on or backing their work.
"There's been a real democratisation of technology," he said. "Anyone can now create a prototype, get funded on Kickstarter or Indiegogo and bring it to CES."
Marketing mix
Martin Garner, another veteran CES goer from analyst house CCS Insight, said the fact that big players were running their own launch events at other times had not brought about an "existential crisis" that left CES rueing its lost relevance.
"The people who worry most about the lack of focus are those who try to digest it all," he said. "The analysts and journalists."
"Most people attending are within an industry and focus mostly on that industry while at CES," he said. For them, he said, the show is about their category and nothing but that category.
That perceived lack of focus might also have come about because technology permeates more of our lives than ever before, said John Curran, managing director of the communication, media and technology practice at Accenture.
"When you look at CES one of the most interesting things about it is how it's evolved over the years," he said.
Up until just a few years ago, consumer electronics was about just a few key categories such as TVs, PCs and DVD players.
"Now," he said, "it's all of that plus now you get wearables and the Internet of Things and new connected devices like cars."
And, he added, just because a company was not making a big deal out of one product did not mean their marketing staff were getting some time off.
"Companies have got very smart at using CES to build their digital brand," he said. Showcasing a gadget in Las Vegas, giving people information about what it can do and how it can be used, seeding information on social media were all ways CES was used as part of that broader mix of communication every firm had to pursue these days, said Mr Curran.
"There's also tremendous value in having a common physical location for the industry to come together and to be able to engage in these face-to-face conversations," he said. "It's as exciting and relevant as its ever been."