Owner of site streaming webcam feeds 'seeks new job'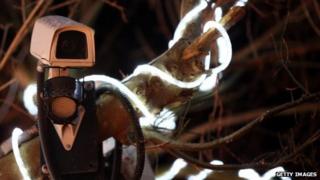 A website containing live links to thousands of baby monitors, web cams and CCTV has shut down.
Its administrator now appears to be using the page to look for work.
"Programmer looking for a good remote job" is now the only content on the site, along with a list of skills and an email address.
The Russian-based site, called Insecam, was streaming footage from systems using either default passwords or no log-in codes at all.
Password security
Last week it was showing video feeds from more than 250 countries including 4,591 cameras in the US and more than 500 within the UK.
It included images from children's bedrooms, driveways, gyms and shops.
Insecam listed material available both by country and by device manufacturer including major brands like Foscam, Panasonic and Linksys.
The devices had not been hacked but were operating on their default security settings.
The site owner told the BBC over email that he did not consider himself to be a hacker as he had not infiltrated any security settings.
"An analogy best describing this would be just because someone leaves their window open it does not give permission for an unauthorized individual to set up a camera outside their window and broadcast the feed worldwide," said Foscam chief operating officer Chase Rhymes.
The companies all urged camera owners to change their passwords regularly.
"If we can take one lesson away from this experience, it is that default passwords do not provide protection from the threats that exist in the modern world.
"Don't make yourself an easy target by failing to set your own password allowing unscrupulous individuals access to your life," said Information Commissioner Christopher Graham.
---
Password tips:
The University of Surrey's Prof Alan Woodward is among security experts who have suggested internet users should now update their login details.
He suggests the following rules should be observed when picking a new password.
Don't choose one obviously associated with you
Hackers can find out a lot about you from social media so if they are targeting you specifically and you choose, say, your pet's name you're in trouble.
Choose words that don't appear in a dictionary
Hackers can precalculate the encrypted forms of whole dictionaries and easily reverse engineer your password.
Use a mixture of unusual characters
You can use a word or phrase that you can easily remember but where characters are substituted, eg Myd0gha2B1g3ars!
Have different passwords for different sites and systems
If hackers compromise one system you do not want them having the key to unlock all your other accounts.
Keep them safely
With multiple passwords it is tempting to write them down and carry them around with you. Better to use some form of secure password vault on your phone.
---