UK should get 'faster and cheaper' 4G data, says Ofcom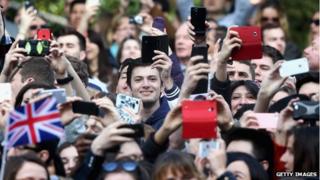 Mobile phone users in the UK can expect their 4G data bills to drop in the future, Ofcom says, following a decision to free up more spectrum.
The telecoms regulator has ruled that frequencies currently reserved for digital TV transmissions and wireless microphones should switch over to mobile broadband.
It said that the change should happen between 2020 and 2022.
One expert said the move would benefit both cities and the countryside.
"It's significant for people in remote and rural areas because, despite the best efforts of government to get operators to deliver fixed broadband into those areas, the fact is there are still some places that are not going to be reached by 2022, and this will help," said Mark Newman, chief research officer of Ovum's telecoms research business.
"And because the 700MHz frequency band is better able to pass through walls and other objects than higher frequencies it will also be useful in built-up areas," he added.
"London, in particular, is internationally known to have pretty bad mobile broadband coverage within buildings. So, certainly this will help networks in situations they have traditionally had problems."
Ofcom said it expected network providers to cut their bills following the increase in capacity.
"Millions of consumers could benefit from lower mobile tariffs than would otherwise be offered, because we expect a significant proportion of the network cost savings to be passed through to them," explained a spokesman.
"Specifically, these include network cost savings from deploying fewer base stations and improvements in mobile performance in hard-to-serve locations."
The regulator stressed that TV viewers would not face another "switchover" to be able to keep using services such as Freeview, as was the case when analogue terrestrials signals were turned off.
However, it will affect some of the communications equipment used by theatres, sports venues and music event organisers, who now have about five years to update their kit.
The regulator added that it was currently carrying out a consultation on how to auction off 2.3GHZ and 3.4GHz spectrum, which is currently used by the Ministry of Defence for mobile broadband.