Broadband speed adverts targeted by watchdog Which?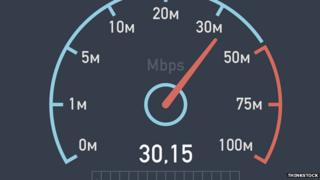 Consumer watchdog Which? has called for regulators to change the way broadband services are advertised.
Currently providers can use a headline speed for services even if only 10% of customers will actually get that speed.
Which? found that a quarter of people would have chosen another deal if they had been better informed about the actual speeds they would receive.
Providers say various factors can affect the speed individual customers get.
"Internet connection is now an essential part of modern life so it beggars belief that providers can sell people short by advertising speeds that only 10% of customers could receive," said Richard Lloyd, executive director of Which?
"We want advertising watchdogs to pull the plug on confusing adverts and ensure broadband providers show the speeds the majority of customers will actually get."
Campaign launch
Which? found that few people were aware of the 10% guideline but the vast majority (88%) felt that speed was a crucial factor in choosing a broadband deal.
Only 5% felt that speed was currently advertised in the clearest way.
Which? called on the advertising watchdogs, the Committee of Advertising Practice (Cap) and the Broadcasting Committee of Advertising Practice (Bcap), to review current guidelines.
It has also launched a campaign - Give us broadband speed guarantees - that is asking the public to sign up.
The Internet Service Providers' Association said that it supported efforts to "boost transparency" but added that it was not always easy to work out what speeds consumers would receive.
"A variety of factors can affect speeds outside of an ISP's control, including customers' internal wiring and equipment," said Ispa secretary general Nicholas Lansman.
"As speeds can involve factors beyond the control of the ISP, we would caution against too restrictive rules."