Spotify defends itself against Taylor Swift's criticism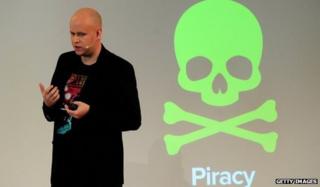 Spotify's chief executive has defended its business model, saying it has paid out $2bn (£1.2bn) to the music industry to date.
Daniel Ek's lengthy blog post follows a high profile move by pop star Taylor Swift to pull her entire back catalogue from the song-streaming service.
She said she did not believe it "fairly compensates the writers, producers, artists, and creators" of songs.
But Mr Ek said Spotify was music's biggest driver of growth.
He noted that 12.5 million of its 50 million active members were paying subscribers, and highlighted that a popular alternative, piracy, did not pay artists at all.
"You can't look at Spotify in isolation - even though Taylor can pull her music off Spotify (where we license and pay for every song we've ever played), her songs are all over services and sites like YouTube and Soundcloud, where people can listen all they want for free," he added.
"To say nothing of the fans who will just turn back to pirate services... and sure enough, if you looked at the top spot on the Pirate Bay last week, there was [Taylor Swift's new album] 1989."
YouTube and Soundcloud do not automatically offer the option to download and listen to music offline, as is the case for the Spotify app's paying subscribers - although there are third-party tools that offer this function.
One expert said the reference to piracy was misleading.
"Spotify has done a fantastic job of giving the music industry's most valuable customers a new way of consuming music that is better value for them than buying downloads," said Mark Mulligan, editor of the Music Industry Blog.
"But I don't think it has done much to compete with piracy to be honest."
YouTube subscriptions
Mr Ek aims to demolish three "myths" in his essay:
That Spotify's "free" service means artists are not paid - he says the free service shares part of its advertising revenues and that 80% of its subscribers started as free users
That Spotify pays so little per play that no-one can earn a living from it - he says that a track listened to half a million times pays out between $3,000 to $4,000 (£1,890 to £2,520), which was more than other streaming services and radio stations offered
That Spotify hurts sales of music - he says that downloads are dropping just as quickly in markets where the service does not exist
Despite these arguments, Mr Mulligan suggested that the record labels might press Spotify into accepting a "windowing" model, whereby it would not get new releases from the biggest acts on the day of release, but would have to wait a period of time.
Coldplay has already enforced such an agreement, making Spotify wait four months to get Ghost Stories after the album was released on sale elsewhere.
The film industry already follows a similar practice, with films being shown first at cinemas, then on pay-per-view services, before becoming available to all-you-can-watch services like Netflix and Amazon Prime.
"You're not giving your customers a benefit for paying at the moment," Mr Mulligan explained.
He added that Spotify's other major problem was YouTube's plans to begin its own subscription service - YouTube indicated last month that this would offer advertising-free material for a fee.
The Financial Times has also reported that a dispute between YouTube and several independent record labels has now been settled, resolving an issue that had blocked its launch.
"It's the only service that is fully licensed with videos, which is something that Spotify has spoken about for years but has not been able to deliver on yet," Mr Mulligan said.
"And all of Taylor Swift's content is nicely available there.
"What is clear is that it is going to be Spotify's biggest head-on competitor, at least until Apple enters the market with a revamped Beats service."