'More diverse' emoji faces planned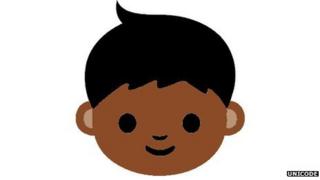 A proposed update to the popular emoji icons is set to include a more diverse range of skin colourings for the first time.
The emoji icons are a vast range of faces, symbols and logos that are compatible with many mobile devices.
But many users have complained that none of the faces have black skin.
"People all over the world want to have emoji that reflect more human diversity," said Unicode, which sets the industry standard for emoji.
Unicode is a Silicon Valley-based non-profit organisation made up of major computer firms, software producers, user groups and others.
It helps set agreed standards for how devices handle and display text and other graphical elements, ensuring consistency.
"The Unicode emoji characters for people and body parts are meant to be generic," the proposal explained.
"Yet following the precedents set by the original Japanese carrier images, they are often shown with a light skin tone instead of a more generic (inhuman) appearance, such as a yellow/orange colour or a silhouette."
'Man with a turban'
The call for more diverse emojis has been led by Apple, which offers emojis on its mobile devices.
"There needs to be more diversity in the emoji character set, and we have been working closely with the Unicode consortium in an effort to update the standard," said Katie Cotton, Apple's vice-president of worldwide corporate communications.
Unicode's current list only features two Asian people - a "man with a turban" and a "man with gua pi mao", a type of Chinese hat.
Under the plans, developers of chat apps or other similar services will soon be able to incorporate a modifier that can alter face icons to be displayed with one of five alternative skin tones.
"These characters are based on the six tones of the Fitzpatrick scale, a recognised standard for dermatology," Unicode explained.
It has not stated when it expects the new emoji range to be rolled out - but the additions outlined in the draft proposal, published online, are likely to be formalised in 2015.