Speed boost for 4G in some UK cities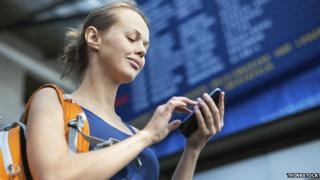 Browsing speeds on some 4G handsets in some UK cities are set to accelerate as two UK operators switch on an improved version of the mobile technology.
Called 4G+ by EE and 4.5G by Vodafone, the technology can offer data rates of 150 megabits per second (Mbps).
In practice, those signing up to use the service should see speeds of up to 90 Mbps - much faster than standard 4G.
However, the technology is only usable on two handsets currently available in the UK.
'Slow rollout'
EE announced that its 4G+ service should now be available in 150 sites across central London. It has been testing the technology in the Tech City area of the capital since late 2013.
The whole of EE's 4G London network should be upgraded for 4G+ by June 2015, it said. By then upgrades to its network in Birmingham, Liverpool and Manchester will also be under way.
Currently, EE offers only two handsets - Samsung's Galaxy Alpha and Note 4 - that can take advantage of the higher speeds available with 4G+.
Vodafone's rollout of the improved 4G technology began on 15 October in three cities - London, Manchester and Birmingham. It said other cities would be added later this year and throughout 2015.
Although only owners of phones that can use the upgraded 4G will get the headline speeds, other 4G customers should see average browsing speeds improve because the technology involves improving a network's data-handling capacity.
Ernest Doku, mobile expert at USwitch said: "We may eventually see the same tech deliver speeds faster than fixed line broadband in the UK, which could be a life-changing concept for those people stranded by a painfully slow rural rollout."
The upgrade comes soon after research into the UK coverage offered by mobile networks found it was often poor. The research by Global Wireless Solutions said many busy commuter rail routes were "mobile dead zones".
It said EE, Vodafone and O2 all heavily relied on their 2G networks to cover the data demands of commuters.