Twitter and the poisoning of online debate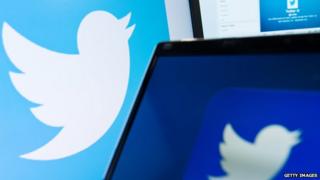 For anyone who believed the internet and social media would foster a new era of free expression and open debate, this is a depressing time. It seems no area of discussion is free from mindless and often vicious exchanges between people who have different opinions.
That has led some to give up on one social media service. Two prominent sports broadcasters, the BBC's Jonathan Agnew and Sky Sports' Jeff Stelling, have left Twitter this week, having had enough of the abuse aimed at them and their families. Another radio and TV personality Richard Madeley has called in the police over rape threats in tweets to his daughter.
And for weeks now women in the video games industry have been under attack. There have been death threats, "doxing" - publishing personal information online - and all manner of insults directed at women who have expressed views about gaming deemed unacceptable by some gamers.
I am not going into the rights and wrongs of Gamergate here - there is what looks like a factual account of this interminable saga on Wikipedia, although of course there have been disputes about its objectivity. But however much some using the hashtag claim that this is a debate about ethical standards in games journalism, a couple of things are clear.
It started with attacks on a female developer and the journalists she knew, and has given rise to a whole lot more viciousness, most of it aimed at women who dare to raise their heads above the parapet. And, just as others have decided that the well is poisoned and have tired of the idea of engaging online, there are signs that women in technology are deciding it just isn't worth speaking up.
A number of women approached by the BBC to talk about these issues have said they just do not need the grief that comes with going on the record. "There is an enormous fear out there," said one technology journalist. At a time when there is a drive to persuade more women to see games and the wider technology industry as an attractive career choice, that must be a worrying development.
And there is wider concern about the future of online debate. Where now are the places that reasonable people can go to find discussion that does not quickly descend into abuse and flame wars? Anonymity is undoubtedly a vital defence for vulnerable people under oppressive regimes - but it has also allowed others to express themselves in language they would never think of using face to face with their targets. This kind of behaviour rapidly has a kind of malign network effect - once forums become occupied by noisy sweary folks, more reasonable voices quietly depart. Hence the mantra, never read the bottom half of the internet.
For a long while, Twitter was different, a place where people were who they said they were and were aware that a tweet was a public statement for which you could be called to account. Now though, a rash of spam and so-called sockpuppet accounts have started to poison this well too. High profile users under assault from such accounts find that they block them, only for new ones to pop up instantly.
Brianna Wu, one of the women targeted in the Gamergate affair, told the BBC earlier this week that Twitter needed to be far more active in addressing this issue. She said that, as a software developer, she could see several solutions that would be easy to engineer. "We want an option for users not to see tweets from accounts opened within the last 30 days, so that they don't have to keep blocking. We want shared blocklists and we want Twitter to be more transparent in working with law enforcement."
I asked Twitter to respond to this criticism and the company sent me this response:
"Our rules are designed to allow our users to create and share this wide variety content in an environment that is safe and secure for our users. When content is reported to us that violates our rules, which include a ban on targeted abuse, we suspend those accounts. We evaluate and refine our policies based on input from users, while working with outside organizations to ensure that we have industry best practices in place."
And it does seem that in the last 24 hours Twitter has made urgent efforts to assist Brianna Wu. She tweeted last night: "I want to thank the Twitter security team for working with me to get my account secure. They get flack, but they've been wonderful to me."
It looks as though Twitter, which needs to prove to investors that its growth years aren't over, is aware that the hatemongers could pose a serious threat to that growth. But driving out that kind of behaviour and restoring sanity to online debate is a task for all of us - and it won't be easy.